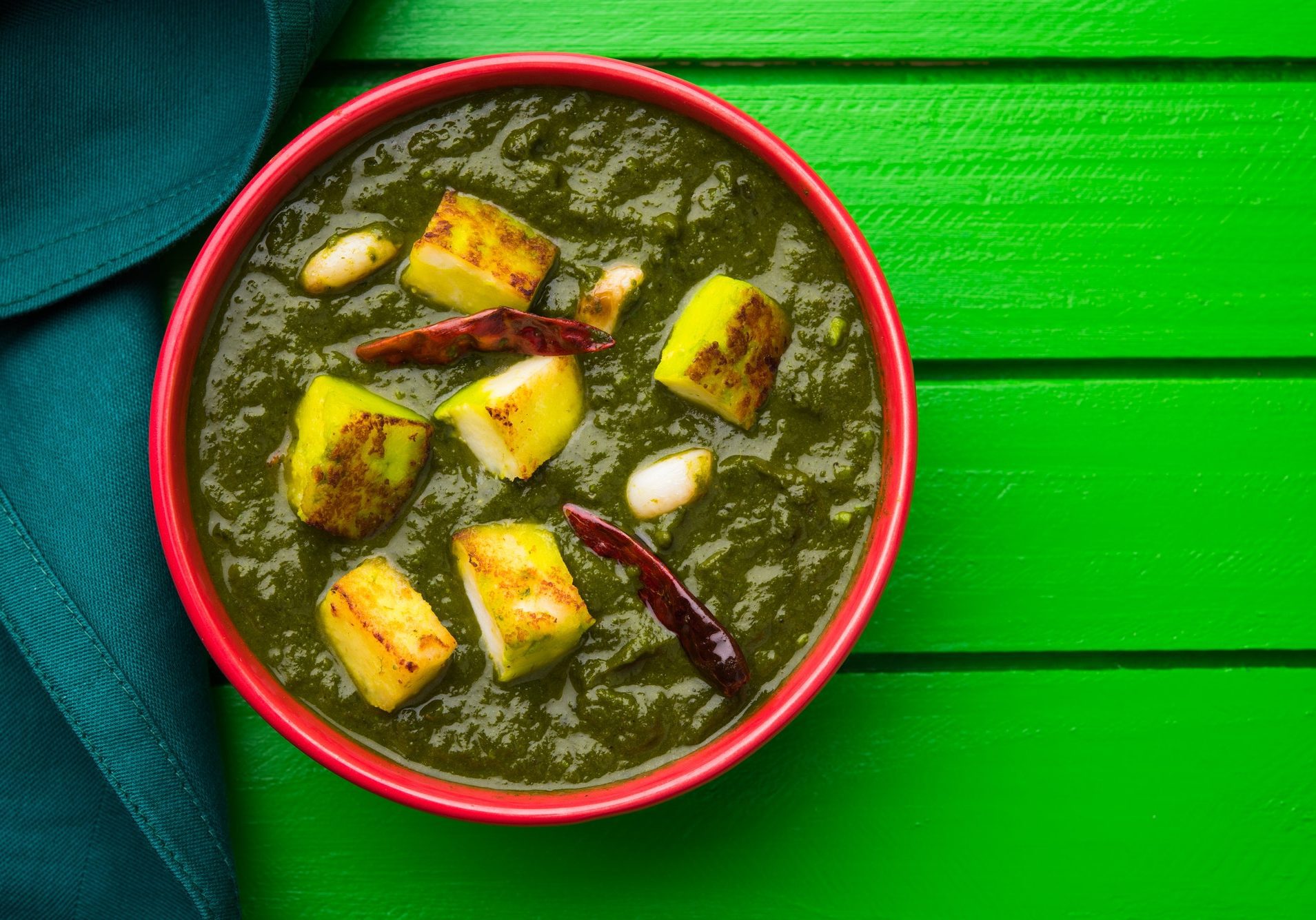 Guest Chef Ed Holston's delicious recipes have featured across our site, so we were intrigued to see this new Saag Paneer Recipe, which shows you how to make this Indian classic from the beginning.
Ed is claiming it is easy, but as I have the ability to make a mess of most dishes, I think I will reserve judgement until I have had a go. I remember some Jamie Oliver's "easy" Italian recipes, they still give me nightmares.
Don't forget to check out Ed's other dishes too such as his Lamb Rogan Josh and Keema Matar.
How to Make
Saag Paneer Recipe from Scratch
This easy spinach and paneer curry recipe is all about the authentic Indian classic, the Saag Paneer. 

Saag Paneer is a classic for a whole host of reasons, but really, it's all about the two most prominent ingredients. The paneer, a beautiful, totally vegetarian cheese that you can easily make at home, and the greens that make up the sauce.

This isn't a dish that needs big, booming flavours. The real draw is the incredible textures. All we really need to do is highlight them with subtle flavours and spices that allow those ingredients to shine. 
Prep – 1 hour
Cook – 30 minute
Serves – 2
Bring 4 litres of milk to the boil. As soon as it starts to boil, add enough lemon juice that when you stir it, the solids break away and harden.
Strain the liquid and wrap the solids in a cloth, further straining as much water as you can out of them. I advise doing that under a running cold tap to avoid burning your hands. Still be careful.
When you've squeezed as much as you can out, press the paneer beneath something heavy to flatten it. Cool it in the fridge, then chop it into bitesize pieces.
In a hot, oiled pan, fry the paneer pieces until browned all over and season with a little salt.
Dice the onions and set them aside with the mustard seeds and a cinnamon stick.
Peel the ginger and garlic and grind them into a fine paste.
Toast the coriander and cumin seeds in a dry pan on high heat and grind them into a fine powder. Then mix them into a spice mix with the asafoetida and the fenugreek powder.
Caramelise the onions with the mustard seeds and the cinnamon stick in an oiled pan with some salt on a medium heat.
After 10 minutes, add the spice mix and allow it to cook through for two minutes, then add the ginger and garlic paste.
After another couple of minutes, add the greens and just enough stock that we can blend it all up nicely. Add some more stock, enough to create enough sauce for two, stir it all together and add the paneer.
Stew everything on a low heat for 15 – 20 minutes, then add the caster sugar, adjust the seasoning and serve with an optional splash of cream.
Ingredients for
Saag Paneer Recipe from Scratch
4 litres Milk
Lemon Juice
Cinnamon Stick
1/2 teaspoon Mustard Seeds
1 x teaspoon Coriander Seeds
3/4 teaspoon Cumin Seeds
1/4 teaspoon Asafoetida
1/4 teaspoon Fenugreek Powder
3 cloves Garlic
2 inches Ginger
200 g Spinach
1 large Onion
350 ml Vegetable Stock
1 x tablespoon Caster Sugar
Salt
Oil
Cream (optional)
Links to other recipes and useful information about this recipe:
If you would like to find out more about our Guest Chef Ed Holston you can visit his website here and see more of his great dishes on his Instagram page.