This authentic recipe will show you how to make a traditional Keema Matter, the rich, flavoursome curry with mince and peas! It comes to you courtesy of Guest Chef Ed Holston, who has shared several curry classics with us.
Keema Matar is a particular favourite of the Editor and mince and peas are an age old combination. We see it in cuisines all over the world. For example, here in England, it's classically used in Shepherd's pie and in India, the combination is called Keema Matar.
I am definitely going to give this recipe a try as I could basically eat this every day and be as happy as Larry. Don't forget to check out Ed's other dishes too such as his Lamb Rogan Josh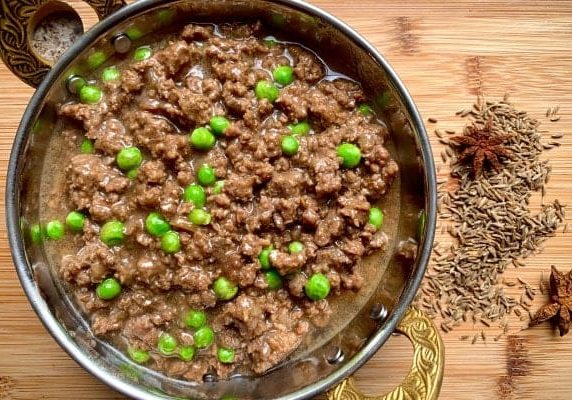 How to Make
Authentic Keema Matar Recipe
This classic Keema Matar recipe is ideal for 2 people and takes roughly 20 minutes of preparation time and 1 1/2 hours cooking time.
Set aside 1 tsp cumin seeds.
Separately, set aside 1/2 tsp cinnamon powder, 1 tsp coriander powder, 1/4 tsp cracked black pepper, 1/2 tsp chilli powder and 1/2 garam masala.
Peel and finely dice 2 cloves garlic and 1 inch fresh ginger. Blend or grind them together and set aside.
Peel and finely dice one large onion.
Add the mince to an un-oiled pan on medium high heat. Cook until browned and set aside.
Pour away any excess liquid and if necessary top up the fat in the pan.
Reduce the pan to low-medium and caramelise the onions for 8 minutes, stirring to ensure they cook evenly. Season them with salt early on.
Make some space in the pan and top up the fat if necessary, then add the cumin seeds and cook for one minute.
Stir them in and then add the other dry spices. Cook for another minute or two.
Finally, add the ginger and garlic and cook through for another minute or two, combining everything thoroughly.
Add the mince back in and pour in your coconut milk and stock.
Simmer on medium heat until the liquid reduces to a thick sauce.
Add the peas during the last few minutes and stir in.
Check the seasoning and if desired add a little sugar or some additional black pepper.
Plate up and season with a little lemon juice.
Ingredients for
Authentic Keema Matar Recipe
400 g Mince beef or lamb
1 x large Onion white or brown
400 ml Coconut Milk
1/2 teaspoon Cinnamon Powder
1 x teaspoon Coriander Powder
1/4 teaspoon Black Pepper Powder
1/2 teaspoon Kashmiri Chilli Powder or any chilli powder
1 x teaspoon Cumin Seeds
1/2 teaspoon Garam Masala
Chicken Stock (either reduced to a jelly or a simple stock cube)
1/2 cup Peas
2 x cloves Garlic
1 inch Ginger
Lemon Juice
Salt
Cooking Oil
Links to other recipes and useful information about this recipe:
If you would like to view the original posting of this Keema Matar recipe and find out more about our Guest Chef Ed Holston you can visit his website here and see more of his great dishes on his Instagram page.