This Lamb Rogan Josh Recipe,  courtesy of Guest Chef Ed Holston, takes the takeaway and restaurant  favourite, and elevates it to a whole new level. 
This dish has a lot in common with its neighbours from elsewhere in the North of India. It's rich and meaty, salty and very comforting. As well as being subtle in all the right ways to showcase its depth and breadth of flavour.
Some dishes are all about the spice, but in this dish it's all about highlighting the rich, meaty flavour of the lamb. Red both in name (rogan = red) and nature, its colour comes not from tomato, but from the spices like paprika and cayenne pepper that help to pack in more and more flavour, perfectly complimenting the beautiful, flavoursome meat.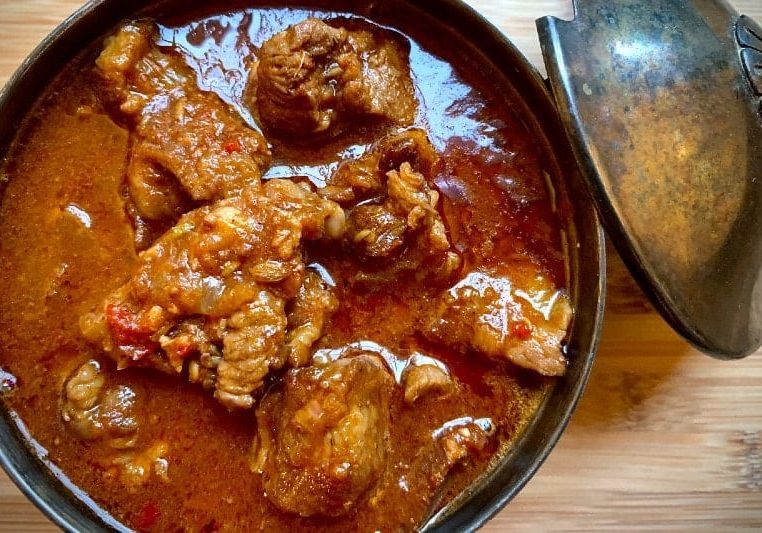 How to Make
Lamb Rogan Josh
This Lamb Rogan Josh recipe is ideal for 2 people and takes roughly 30 minutes of preparation time and 2 hours cooking time, to allow the sauce to thicken and the lamb to become nice and tender.
Mix together your star anise, 1/2 tsp cumin seeds, 1/2 tsp fennel seeds and 5 cardamom pods, then set aside in a small container.
Mix together 1/2 tsp cinnamon, 1 tsp coriander powder, 1/2 tsp chilli powder, 1/2 tsp paprika and 1/2 tsp cayenne pepper and set aside in another small container
In a blender or pestle and mortar, blend or smash together your fresh ginger and garlic. Set aside.
Chop your lamb shoulder into bite-size pieces and season with salt.
In a very hot pan with some of your ghee or oil, sear the edges of the meat all over, then set it aside.
Dice an onion as finely as you can and fry in ghee, oil or animal fat on a medium temperature for 6 – 8 minutes, seasoning with salt.
After 8 minutes, make a little space in the pan for your whole spices and add them in. Allow them to make direct contact with the hot pan for 30 seconds or so, before mixing them in with the onions for a further minute and a half.
Do the same as above, but this time with the spice mix you made earlier. First adding it to a relatively clear part of the pan for 30 seconds or so and then mixing it in with the onions and allowing another minute and a half.
Now add the paste you made earlier. Mix it in with the onions and allow it to cook for a couple of minutes.
Move everything from the pan to a blender and combine thoroughly, then switch back to the pan. Add the meat back in and the stock and a bay leaf – and,  optionally, the fresh chillies – then stir together and reduce slowly for an hour or two on a low temperature. Once the meat is tender and the sauce has thickened to the desired consistency, you're ready to serve
Plate up and garnish with coriander and lime juice. Or with nothing at all!
Serve your Lamb Rogan Josh with rice or naan.
Ingredients for
Lamb Rogan Josh
400 g Lamb Shoulder
1 x tablespoon Ghee butter, lamb fat or vegetable oil would all also do
1 x Star Anise
1/2 teaspoon Cumin Seeds
1/2 teaspoon Fennel Seeds
5 x Cardamom Pods
1 large Onion
1/2 teaspoon Mace
1/2 teaspoon Cinnamon
1 x teaspoon Coriander Powder
1/2 teaspoon Kashmiri Chilli Powder
1/2 teaspoon Paprika
1/2 teaspoon Cayenne Pepper
1 x teaspoon Ginger Paste or 1 square inch of fresh ginger
4 x cloves Garlic
2 x Fresh Chillies (Optional)
1 x Bay Leaf
400 ml Lamb Stock
Fresh Coriander optional
Lime Juice optional
Salt
Links to other recipes and useful information about this recipe:
If you would like to view the original posting of this Lamb Rogan Josh recipe and find out more about our Guest Chef Ed Holston you can visit his website here and see more of his great dishes on his Instagram page.