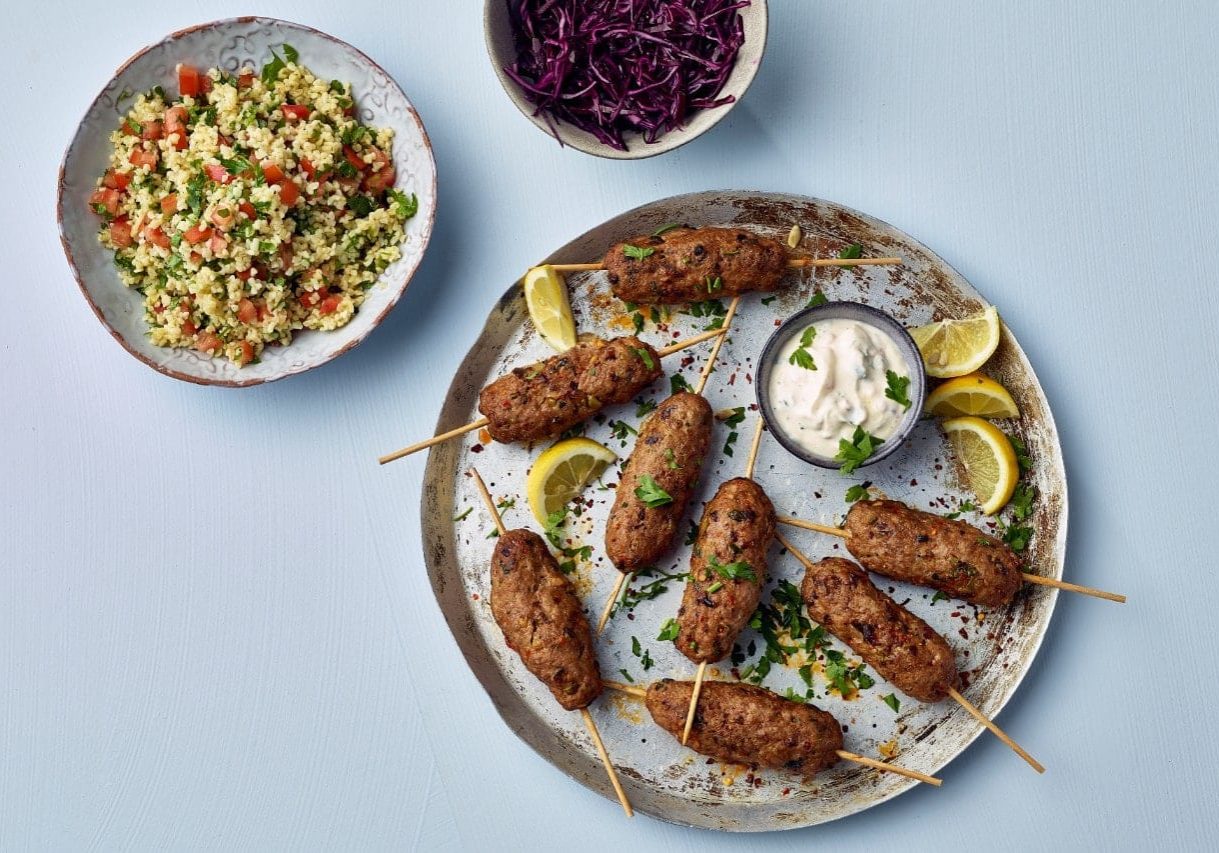 This recipe is a not directly an Indian dish as it is popular across a wider area, however Lamb Kofta Kebabs are certainly one of our favourites and this recipe comes to you courtesy of Opies and is easy to prepare and is ideal for a lighter meal, or eating out doors.
You can serve it with just about any sides dish, bread or rice and add in your favourite chutney. In this case a couple of sides have been suggested for you.
Give it a try and let us know how you go on.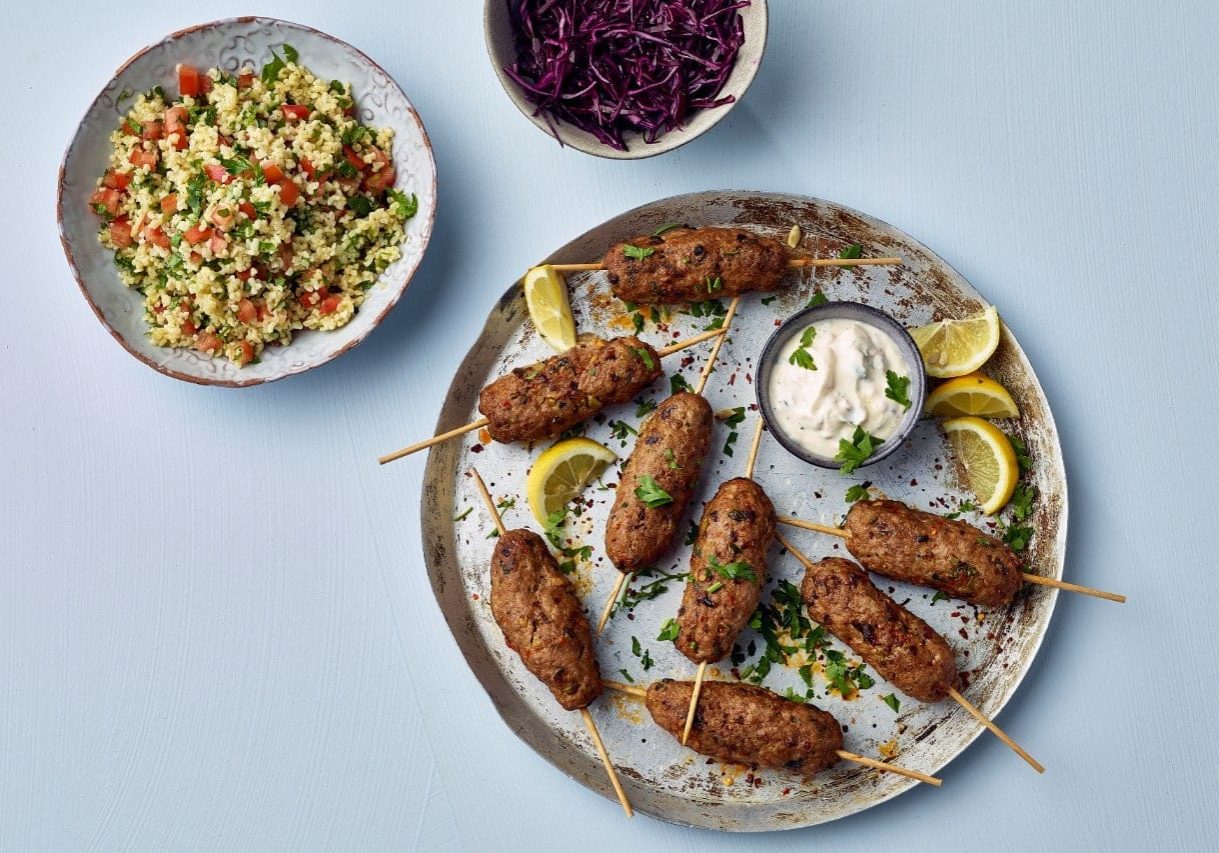 How to Make
Lamb Kofta Kebabs
Serves 4
Preparation time:  30 minutes
Allergens: sulphites, bulgur wheat (gluten), dairy
Method
Start with making the Koftas. In a small frying pan add the olive oil, red onion and garlic and fry until the onions are soft but not browned. Add the paprika, cumin and chilli, continue cooking for 1 more minute over a low heat. Remove and leave to cool completely.
Place the lamb into a mixing bowl with the finely chopped gherkins, cooled onion mixture and fresh chopped mint. Season with salt and milled pepper and mix really well.
Take 8 wooden skewers. Divide the kofta mixture into 8 balls. Then using damp hands form the lamb around the wooden skewers into a sausage shape. Leave in the fridge until needed.
For the tabbouleh mix the cooked bulgur wheat with the parsley, mint, tomatoes lemon juice and olive oil and season to taste.
For the pickled red cabbage, quite simply pour a little of the gherkin pickling liquor over the cabbage and mix.
For the yoghurt sauce, simply mix the three ingredients together. Ideally if you have a hand-held blender or with a spoon.
Place the Koftas under a hot grill and cook for about 10 minutes, turning every so often.
Serve the koftas with warm pitta bread, tabbouleh, pickled red cabbage and the zingy yoghurt dressing.
Pro cooking tips: Lamb can be replaced with any other minced meat, such as pork or beef.
Ingredients for
Lamb Kofta Kebabs
For the Koftas
550g Lean Mince Lamb
1 x tablespoon olive oil
2 x garlic cloves crushed
1 x red onion finely chopped
4 x Opies Cocktail Gherkins finely chopped
2 x teaspoon paprika
1 x teaspoon cumin
1 x red chilli, finely chopped  
5 x mint leaves finely chopped2 x tablespoon olive oil
For the Tabbouleh
100g bulgur wheat, cooked according to the pack instructions
Handful of chopped fresh parsley
20g fresh mint chopped
3 x tomatoes, de-seeded and chopped
Juice of a lemon
2 x tablespoons of olive oil
For the Garnish
1/4 finely shredded red cabbage
Pickling juice from the Opies Cocktail Gherkins
Natural yoghurt
Fresh chopped mint
½ fresh red chilli
Links to other recipes and useful information about this recipe:
Bennett Opie is one of the oldest, private family-owned food companies in the UK and is based in Sittingbourne, Kent. For over a century Bennett Opie Limited has endeavoured to create, produce and distribute high quality products that include a wide range of cocktail products, speciality pickles, chutneys, olives, ginger, luxury fruits, sauces and compotes under the Opies brand. 
You can find out more about them by visiting their website and following them on social media @opiesfoods
Note: Curry Culture has no affiliation with Opies and we have not been paid for this post. They shared their recipe and we shared it with you it's as simple as that.