Lamb / Mutton Rezala,  a creamy, nutty Mughlai recipe courtesy of Guest Chef Ed Holston
Whether you use lamb or mutton, this creamy, nutty lamb rezala recipe takes all the best bits of Mughlai cuisine, including cashews, fragrant spices and subtle sweetness, and throws in a whole load of butter and a rare punch of chilli. It really is everything a curry should be and more!
Whether lamb, mutton or chicken, this dish dares to do something very few other curries do. It takes all the usual elements of a much softer, safer dish and it fills them with fire!
The sauce is made with cashews and poppy seeds, as well as the usual array of fragrant Mughal spices, topped with butter and infused with an amazing heat and spice. Rich, creamy and fiery, the dish has it all.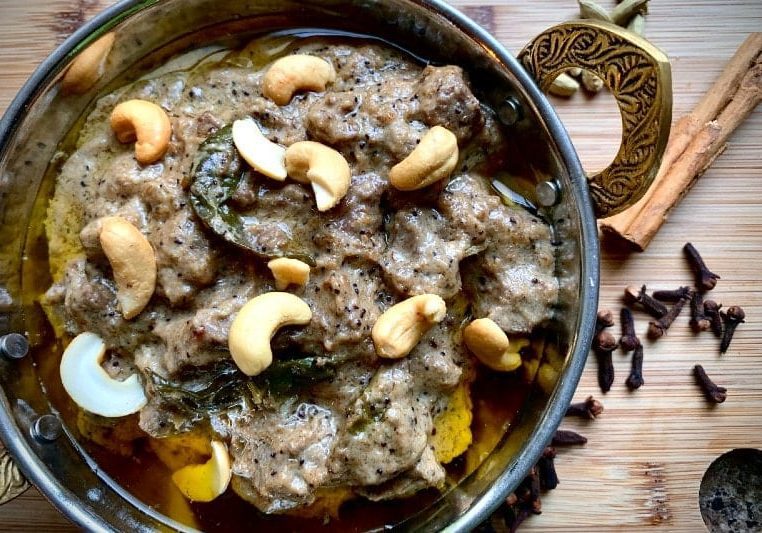 This dish is ideal for 2 people and takes roughly 1 hour of preparation (to allow for soaking) and 1.5 to 2 hours cooking time
Soak the poppy seeds and cashew nuts in stock for at least an hour or two. Set aside just a few cashew nuts to use as a garnish later on.
Bash the chillies a little and set them aside. You don't want to damage them too much, but bruise the outer layer a little.
Peel and finely dice the onion.
Peel the garlic and ginger and roughly chop them, then grind them into a paste in a pestle and mortar. Set them aside and wipe out the pestle and mortar.
Toast the coriander seeds, cloves and cardamom pods in a hot pan with no oil, for just long enough that you can smell the aroma lifting from the pan.Grind those spices up in a pestle and mortar and mix them with the black pepper and the garam masala.
Strain the stock from the poppy seeds and cashew nuts and set it aside, then blend those cashews and poppy seeds, gradually adding all of the cream, bit by bit. Set that aside as well, separately.
Dice up the meat into suitably sized pieces and season with salt, then add to a pan on high heat with a little ghee or oil and sear all over, then set aside and allow the pan to cool.
Top up the ghee / oil if necessary and then caramelise the onions on a low – medium heat for roughly 8 minutes, until they soften and begin to turn translucent. Stir regularly.
Add the spices and increase the heat a little, cooking them through for a minute or two, but keeping them moving around the pan so they don't burn.
Add the ginger and garlic paste and do the same again, stirring it into the onions and spices and cooking it through for just a minute or so.
Add a little bit of stock and move everything to a blender, combining thoroughly and then pouring in the rest of the stock. 
Transfer everything back to the pan, re-adding the meat and adding a bay leaf.
Reduce everything down gradually on a low-medium heat until the meat is tender and the stock has reduced substantially.
Add the cashew & poppy cream and once again reduce everything down until you have a thick, wonderful sauce that clings to the meat.
Remove the bay leaf and the cinnamon stick and season the dish with salt and caster sugar. As much as you feel it requires.
Plate up and garnish with a little more ghee and a few cashew nuts.
Ingredients for
Lamb Rezala
400g Lamb or Mutton Shoulder
350ml Chicken Stock
100g Ghee or Oil
2/3 cup Cashew Nuts
2 x teaspoons Poppy Seeds
200 ml Single Cream
4 x small Green Chillies
1 x large White Onion
1 – 2 inches Fresh Ginger
3 – 4 cloves Garlic
1 x teaspoon Coriander Seeds
5 x Cloves
5 x Cardammom Pods
1 x teaspoon Cracked Black Pepper
1 x teaspoon Garam Masala
1 x Cinnamon Stick
Salt
2 x teaspoons Caster Sugar
Links to other recipes and useful information about this recipe:
If you would like to find out more about our Guest Chef Ed Holston you can visit his website here and see more of his great dishes on his Instagram page.