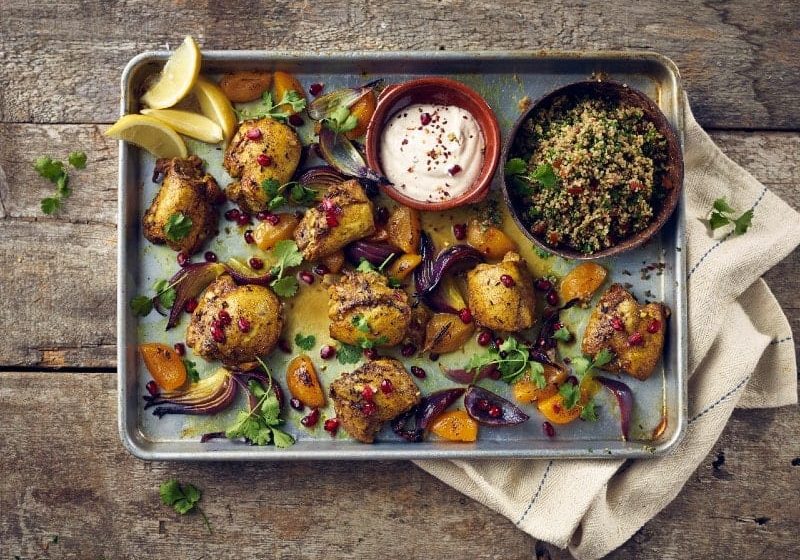 Today's recipe comes from Persian cuisine, one that historically has had a big influence on Indian dishes.
This Persian Chicken Recipe comes to you courtesy of Opies and is great for a family dinner or for entertaining friends.
These aromatic spiced chicken thighs are quick to prepare and then baked in the oven for 1/2 hour. They can be served warm or cold with flat breads or couscous, so you could even pack them for a picnic if you're heading out somewhere and need something nice to snack on.
Give them a try and let us know how you get on.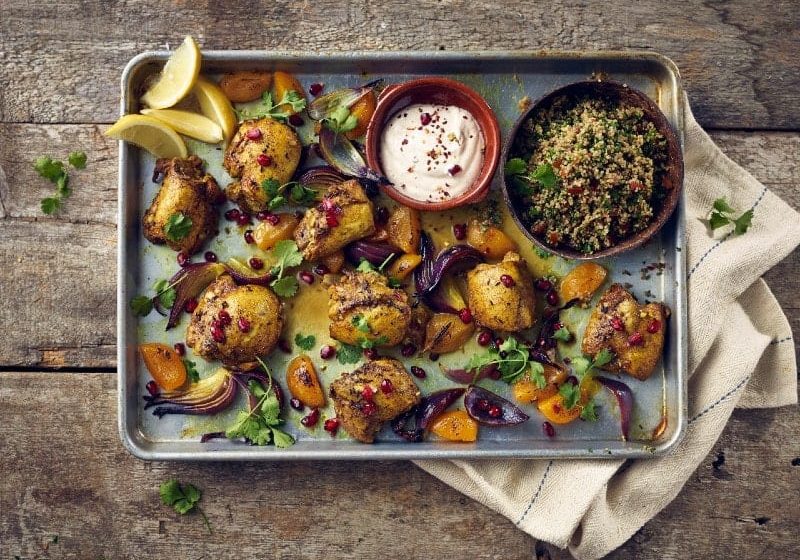 How to Make
Persian Chicken
Serves 4
Preparation time:  15 minutes, 30 minutes marinading
Cooking time: 30 minutes
Method
In a large bowl combine the onion, spices, garlic and zested rind and juice of a lemon.
Tip in the chicken thighs and make sure they are well coated and season with salt and pepper, leave in the fridge for ½ hour.
Pre-heat the oven to 180°C, halve the Opies Apricots with Jim Beam.
Place the chicken in a roasting pan and scatter over Opies Apricots with Jim Beam, roast in the oven for 25-30 minutes. Probe with a clean skewer and if juices run clear the chicken is cooked.
Drizzle over the reserved syrup, scatter with pomegranate seeds, lemon wedges and coriander leaves.
Pro cooking tips: This dish would also be perfect for a picnic, served with rice or quinoa salad and spiced natural yogurt.
Ingredients for
Persian Chicken
1 x red onion, peeled and sliced
1 x teaspoon cumin
1 x teaspoon ground coriander
1 x teaspoon turmeric
1 x teaspoon cinnamon
1 x teaspoon minced garlic in oil
2 x lemons, one cut into wedges
8 x boneless, skinless chicken thighs
Salt and pepper
10 x Opies Apricots in Jim Beam and 2 x tablespoon reserved syrup
2 x tablespoon pomegranate seeds to garnish
Handful of fresh coriander leaves to garnish
Links to other recipes and useful information about this recipe:
Bennett Opie is one of the oldest, private family-owned food companies in the UK and is based in Sittingbourne, Kent. For over a century Bennett Opie Limited has endeavoured to create, produce and distribute high quality products that include a wide range of cocktail products, speciality pickles, chutneys, olives, ginger, luxury fruits, sauces and compotes under the Opies brand. 
You can find out more about them by visiting their website and following them on social media @opiesfoods
Note: Curry Culture has no affiliation with Opies and we have not been paid for this post. They shared their recipe and we shared it with you it's as simple as that.