A Punjabi Chicken Karahi is an onion and tomato based dish with plenty of garlic and ginger added as well.
This Punjabi recipe carefully blends spices for a subtle yet tasty dish. Our recipe uses a base curry sauce but if you don't have one to hand you could use more chopped tomatoes or a little water but that will reduce the depth of flavour.
Sometimes call Chicken Kadai it is basically chicken curry from Northern India and Pakistan. Each region will have it's own variations so don't feel too fixed on what ingredients you must have, if you like red peppers, add them it's fine cook them along with the onions. All we would say is the end product should be a nice thick sauce with a good level of ginger and garlic as its base flavour.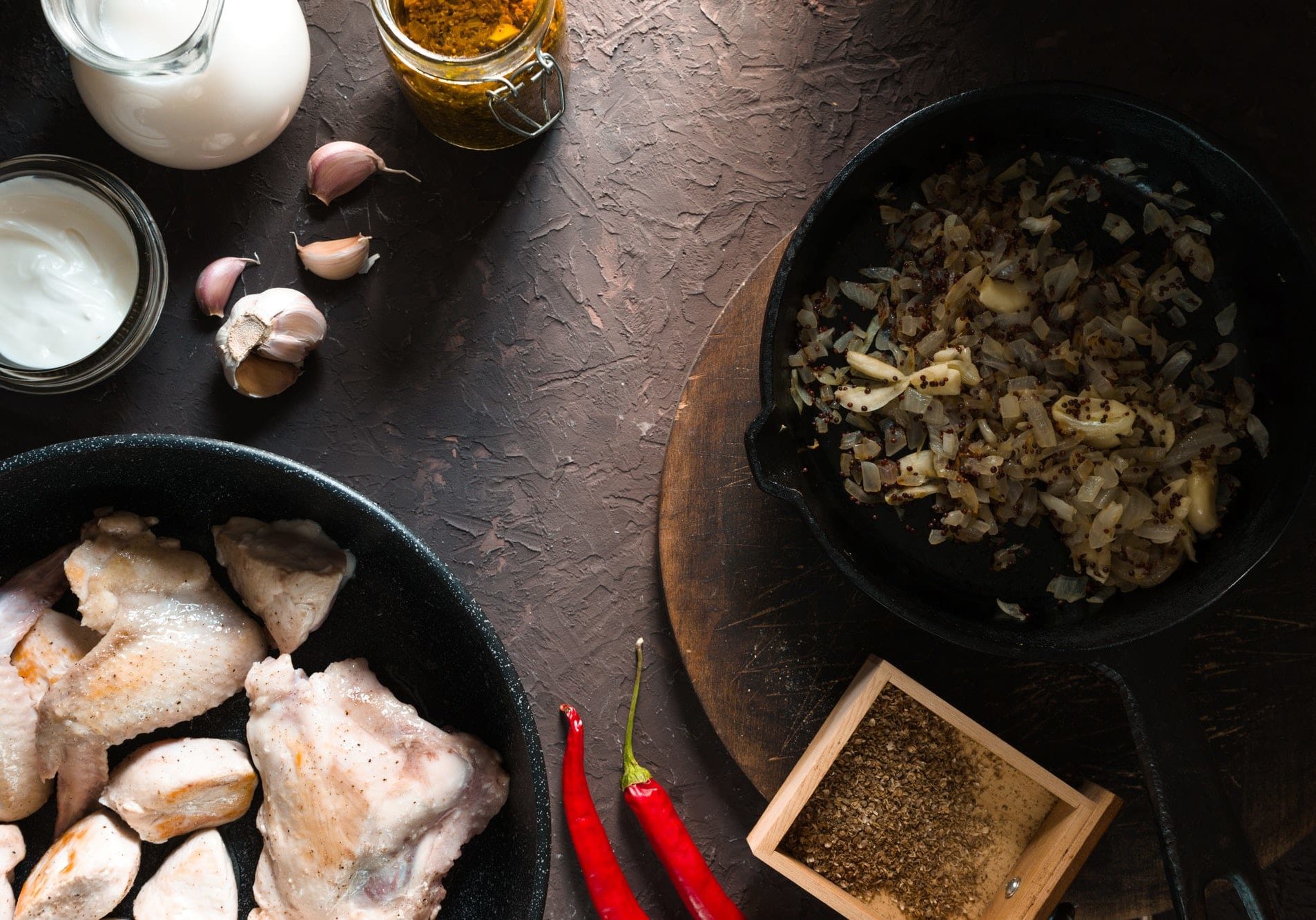 How to Make
Punjabi Chicken Karahi
Karahi is actually a cooking method and refers to the pot used to make this dish. A 'karahi' is similar to a wok but has a flat bottom, ensuring even cooking and greater depth of flavour.
A thickish sauce is what you are aiming for as this dish should not be swimming in your base gravy sauce.
Heat the olive oil in a frying pan, add the chicken and cook until brown.
Add the garlic & ginger paste, followed by the boiled onions.
Add the tomato puree, coriander powder, mixed spice, red chilli powder and mix well.
Throw in 3/4 of the chopped coriander, garam masala and curry sauce.
Leave to simmer and come together for a few minutes then add the tomato chunks.
Transfer to serving plate and dress with remaining chopped coriander and fresh chillies and ginger.
Like this Punjabi Chicken Karahi recipe? Why not try the Lamb Karahi which includes turmeric and tomato and onion paste for a richer flavour, perfectly complimenting the red meat.
Ingredients for
Punjabi Chicken Karahi
200g diced chicken breast
1 x tablespoon olive oil
1 x heaped tablespoon boiled onions
2 x heaped tablespoon tomato puree
1 x teaspoon coriander powder
1 x teaspoon mixed spice
1 x teaspoon red chilli powder
A handful chopped coriander
1 x teaspoon garam masala
1 x heaped tablespoon curry sauce
4/5 tomatoes cut into chunks
Fresh slice green chillies and ginger for dressing
Links to other recipes and useful information about this recipe:
If you would like a quick and easy way to make this dish you could try one of these Punjabi Chicken Karahi ready made sauces and simply add the chicken or filling of your choice. We've never tried this brand so if you do let us know how it works out 🙂