The Karahi curry is a spicy dish and is a particular favourite in Northern India and Pakistan. It is related to the Balti and both are stir fried dishes.
There is no single agreed recipe for a Karai curry as it is more a style of cooking (stir frying in a Karahi – there are lots of spellings) so this means there is plenty of variety from one recipe to another. Traditional recipes use chicken or lamb with plenty of garlic and ginger. Generally it will be served medium to hot but we have seen milder versions too.
A Karahi is actually the name for a type of Indian iron round bottomed wok. As mentioned the Karahi style is similar to a Balti curry, however the Karahi is commonly available as a dish in its own right.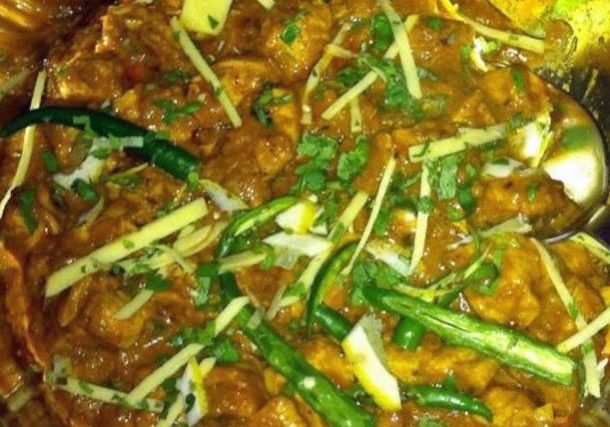 How to Make
Karahi (Khorai, Karai, Korai)
The Karahi curry is cooked by stir frying the ingredients in a large wok. If you have a base curry sauce ready to use then it makes it quicker and easier to make a more authentic restaurant style dish. A Korai is a drier style of curry so is not generally "swimming" in sauce, this forms more of a coating as with so many stir-fried Asian dishes.
Here's a great recipe for Punjabi Chicken Karahi
Heat the olive oil in a frying pan, add the chicken and cook until lightly browned. Add the garlic & ginger paste, followed by the boiled onions.
Add the tomato puree, coriander powder, mixed spice, red chilli powder and mix well.
Throw in 3/4 of the chopped coriander, garam masala and your base curry sauce.
Leave to simmer for at lest 20 minutes to bring all the ingredients together and then add the tomato chunks. Simmer to allow these to warm through.
Transfer to a serving plate and dress with remaining chopped coriander and fresh chillies and ginger.
Or if you prefer here is a great Lamb Karahi recipe
Start by heating the oil in the pan, add a heaped teaspoon of garlic and ginger paste, followed by a tablespoon of tomato puree.
After a few minutes add the spices; one teaspoon of turmeric and one teaspoon of red chilli powder.
Next add the boiled onions and the lamb. Leave to cook for a few minutes.
Add the tomato and onion paste and stir. Sprinkle on the fresh chopped coriander, sliced green chillies and garam masala. Stir well.
Finally add the curry sauce and a little salt to taste.
When on the plate or serving dish top with the fresh ginger and the rest of the coriander and green chillies.
And there you have it; a beautiful, authentic Lamb Karahi. Great to eat with nan, roti and pilau rice.
Ingredients for
Karahi (Khorai, Karai, Korai)
200g diced chicken or lamb
1 x tablespoon olive oil
2 x teaspoon garlic & ginger paste or chopped fresh if you prefer
1 x heaped tablespoon boiled onions
2 x heaped tablespoon tomato puree
1 x teaspoon coriander powder
1 x teaspoon mixed spice
1 x teaspoon red chilli powder
A handful chopped coriander
1 x teaspoon garam masala
2 x tablespoon base curry sauce
4 or 5 tomatoes cut into chunks
Additional for the lamb karahi recipe:
2 x tablespoons of tomato and onion paste in place of the chopped tomatoes
1 x chopped green chilli
1 x teaspoon turmeric
Fresh sliced green chillies and ginger for dressing your finished dish (optional)