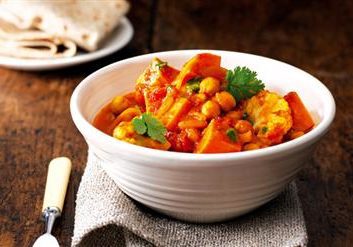 Whilst we all enjoy a visit to the local Indian, it would appear that it isn't only curry houses that are serving up the nation's favourite dish.  Many mainstream restaurants, café's and pubs across the country offer their own British take on Indian Cuisine.
Greens of Grasmere, a café and bistro set in the quaint Lakeland of village of Grasmere specialises in catering for specific diets.
This sweet potato and cauliflower curry is suitable for vegans and for those who require gluten-free and dairy-free dishes.  It's also totally delicious!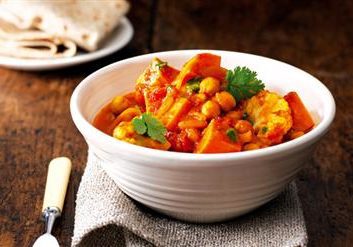 How to Make
Sweet Potato Curry Recipe
Sautee the onions, garlic and fresh chillies in the vegetable oil
Grate in the ginger
Add the raw sweet potato and cauliflower and coat in the dried spices
Add the vegetable stock and tinned tomatoes and simmer gently for 20 minutes
Add the chickpeas and fresh coriander, simmer for a further 10 minutes
Serve and top with fresh coriander and steamed basmati rice
Green's Licensed Café and Bistro is located in the historic village of Grasmere in the heart of the Lake District. Open throughout the year, they make all of their own food on the premises using seasonal ingredients provided by local suppliers. Specialising in specific diets, they offer multiple gluten-free, dairy-free, vegan and vegetarian options – www.greensgrasmere.com
Ingredients for
Sweet Potato Curry Recipe
1 x cauliflower, cut into florets
1 x large or 2 x small sweet potatoes, peeled and cut into 2cm chunks
2 x red onions, diced
3 x cloves of garlic, finely diced
1 x chilli de-seeded and finely sliced (leave seeds in for more heat)
1 x 3cm square piece of ginger
1 x can of chopped Italian tomatoes
1 x can of drained chickpeas
1 x teaspoon of dried cumin and coriander
1 x pint of gluten-free vegetable stock
1 x tablespoon of vegetable oil
Fresh coriander, chopped and extra for plating up
Links to other recipes and useful information about this recipe: