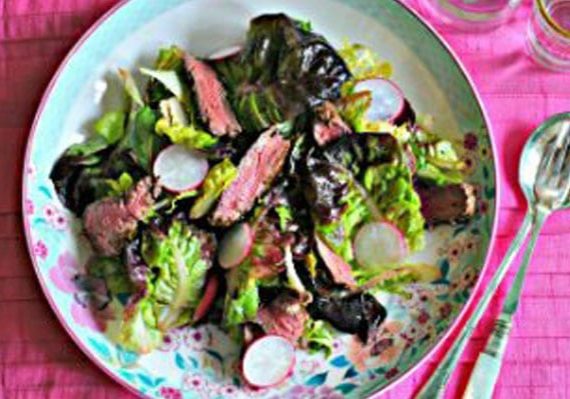 Kerala style steak salad served with radish and mustard
Courtesy of Sheba Promod from Absolute Indian Cookery Classes.
Inspired by a Kerala pepper fry, this simple and succulent beef salad makes a great lunch or light supper. The bittersweet warmth of the beef and dal's nutty tones act as a great pick-me-up during what appears to be a monsoon summer for us!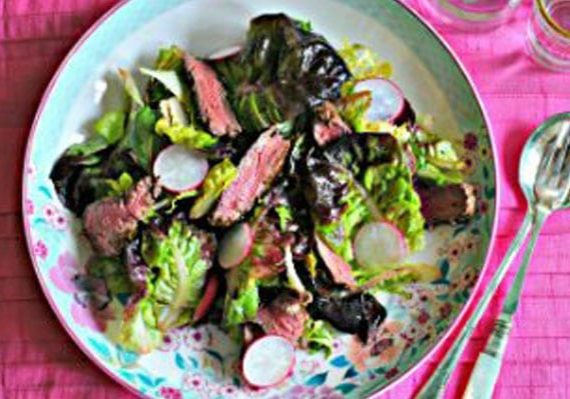 How to Make
Kerala style seared steak salad
Serves 2
Finely grind the whole spices and urad together using a spice or coffee grinder. In a bowl, combine the crushed garlic, vinegar, vegetable oil, garam masala, black pepper, salt and the freshly ground spices. Mix together until smooth.
Baste the steak thoroughly with the spice paste and leave covered in the fridge for a minimum of four hours (remove from the fridge 20 minutes before cooking). Sear the steak in a hot griddle pan or frying pan for 3 minutes on each side (medium rare). Cover with foil and set aside to rest for 5 minutes.
Slice the radishes and put into a bowl together with the salad leaves and toss with the mustard, balsamic and extra virgin olive oil. Slice the steaks as thinly as possible and toss with the salad. Serve immediately.
Ingredients for
Kerala style seared steak salad
Whole spices
1/4 inch cinnamon stick
2 x cardamom pods
2 x cloves
1/4 tsp fennel seeds
Other ingredients
1 sirloin steak (approx. 250g)
1/2 clove garlic, crushed
1/4 teaspoon garam masala
1/2 teaspoon urad dal (optional)
1 x teaspoon vinegar
1 x teaspoon vegetable oil
1/2 x teaspoon coarse ground black pepper
1/4 x teaspoon salt
For the salad
Small bag of herby leaf salad
4-5 radishes
1/4 teaspoon dijon mustard
1/2 teaspoon balsamic vinegar
1/2 teaspoon extra virgin olive oil
Links to other recipes and useful information about this recipe:
This Kerala style steak salad recipe has been reproduced by courtesy of Sheba Promod from Absolute Indian Cookery Classes