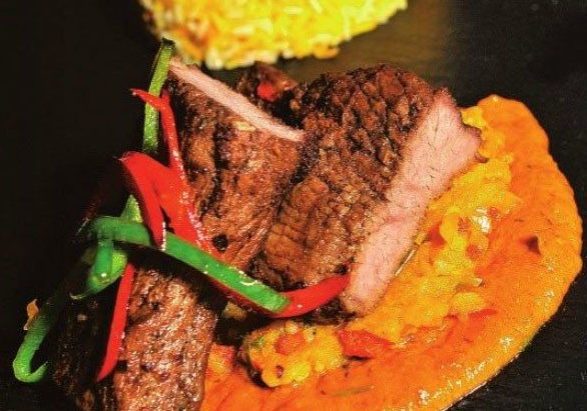 A great recipe for spicy meat lovers
Recommended by the head chef of the Calcutta Brasserie in Milton Keynes,  Saj Khan. This recipe shows us how to make pan fried spicy beef steak served with fresh vegetable mash and chilli paneer-Indian cottage cheese.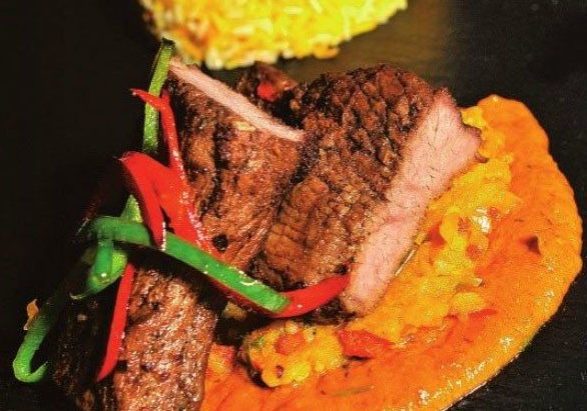 How to Make
Pan fried spicy beef steak
(1 portion) Beef steak 250-280 grams – marinate with salt and black pepper (to taste), shredded pineapple and olive oil then grill on a griddle pan until it is cooked the way you like (medium to well done is recommended).
Fresh vegetable mash – carrots, potatoes, courgette and butternut squash. Boil, strain and then mash. Afterwards, cook the vegetable mash with spices to taste.
Step 1 – (Optional) Fry some whole spice seeds in a hot pan for one or two minutes until they crackle.
Step 2 – Put some oil (more is better) into a frying pan on a medium heat, add finely chopped onions and cook until translucent or slightly brown. Each gives a different flavour and texture so it's up to you which you prefer.
Step 3 – Now add spices to taste and stir in. Then add grated ginger, crushed garlic and any fresh chopped chillies.
Step 4 – Now add the vegetable mash. You should try to brown it well on all sides to add lovely caramelised browning flavours. Add some stock or water to prevent burning, if needed.
Step 5 – Taste and season.
Step 6 – (Optional) Garnish the finished dish with coriander leaves, dash of yoghurt, twirl of cream or some ground sliced nuts.
Chilli Paneer – You can buy the Indian cottage cheese from any Asian supermarket or Sainsbury's.
Make a thick batter of gram flour and corn flour with salt. The batter consistency should be enough to coat the paneer smoothly.
Deep fry the paneer (cottage cheese) cubes by dipping them in this batter, drain using a paper towel. Cube the onion and capsicum, slit the green chillies and crush some garlic cloves roughly.
Heat a wide pan with 2 tsp oil and add the crushed garlic and green chillies. Add the onion and fry till transparent.
Add the deep fried paneer cubes and lemon juice. Mix well. Lastly, add coriander leaves and serve.
Serve the whole dish with pilau rice.
Ingredients for
Pan fried spicy beef steak
Fresh steak of beef
Garlic
Ginger
Onions
Grated pineapple
Roasted coriander seeds
Cumin
Chilli powder
Turmeric powder
Fresh coriander
Chilli Paneer-Indian
Cottage cheese (Indian)
Gram flour
Corn flour
Green chillies
Links to other recipes and useful information about this recipe: