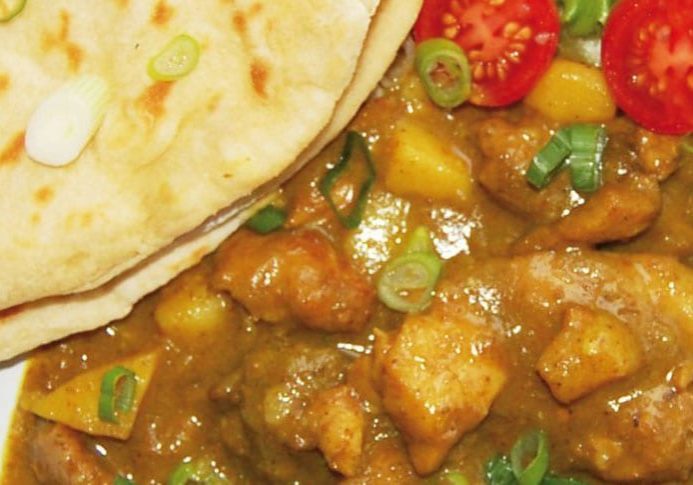 Chicken Roti is a fantastic street food dish served in many parts of the Caribbean. This chicken recipe covers both the filling and the roti flatbread but you can of course just opt for the filling and buy the breads from your favourite supplier or supermarket.
This delicious recipe comes courtesy of Tan Rosie Foods and originates from India via Trinidad.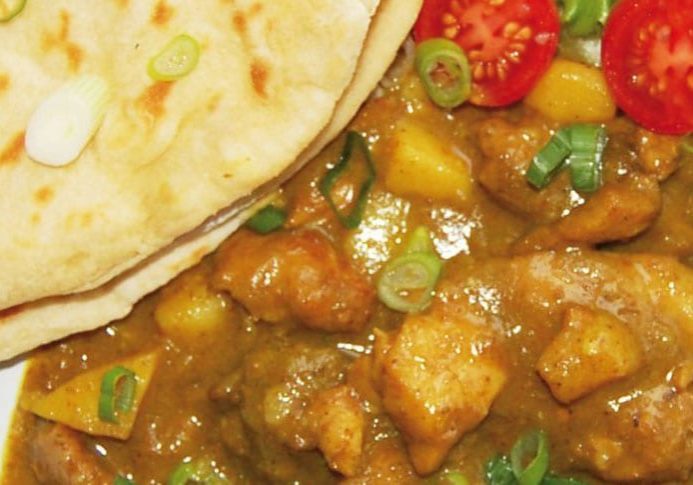 How to Make
Caribbean Chicken Roti Recipe
To make the Chicken Curry:
1. Cut boned chicken thigh into cubes.
2. Massage curry powder into chicken & leave overnight.
3. Heat oil in a pan, then add onions & sauté for 5mins until golden brown.
4. Add minced garlic & sauté for 1 minute.
5. Add seasoned chicken and fry until brown.
6. Add coconut milk, water, potato, salt, pepper & scotch bonnet pepper and cover pot and bring to boil & simmer for 40mins.
7. Remove cover and reduce liquid until thickened.
8. Remove scotch bonnet pepper and serve.
To make the Roti:
1. Add flour, salt & baking powder into a bowl.
2. Add some water (enough to form a soft pliable dough) then mix for 5 mins.
3. Turn out onto floured surface & knead until smooth – cover & leave for 15mins.
4. Melt ghee in pan and add some flour to make a paste, then cut dough into 4 portions and make round balls and roll out into 10" disc.
5. Brush ghee paste onto disc and cut from centre of disc to outer edge and roll together to form a cone shape.
6. Place the cone on surface, push the peak down so it is flat and roll out into 12" diameter disc (the cone shape makes the layers).
7. Place on a hot tawa or gridle stone and cook for 1 min – turn and brush with ghee and repeat until brown specs appear.
8. Remove and cover with warm towel – then repeat until all the dough is cooked.
Pro cooking Tip:
Make sure you have a plate and warm towel ready for the rotis. Plus, it's important to leave the chicken to marinade for at least 2 hours or overnight.
Ingredients for
Caribbean Chicken Roti Recipe
Chicken Curry Ingredients:
500gm x Boned Chicken Thighs (Cubed).
40gm x Tan Rosie Caribbean Style Curry Powder
1 x tablespoon x Vegetable Oil
1 x Scotch Bonnet Pepper
1 x medium Potato (Cubed)
200ml x Coconut Milk
1 x Large Onion (Minced)
2 x Garlic Cloves (Minced)
1 x teaspoon Salt & Black Pepper
100 ml x Water
Roti Ingredients:
500gm x Flour
1 x tablespoon Baking Powder
1 x teaspoon Salt
50gm x Ghee
Water (enough to form soft dough)
Links to other recipes and useful information about this recipe:
Visit the Tan Rosie foods website for more great recipes and to buy ingredients