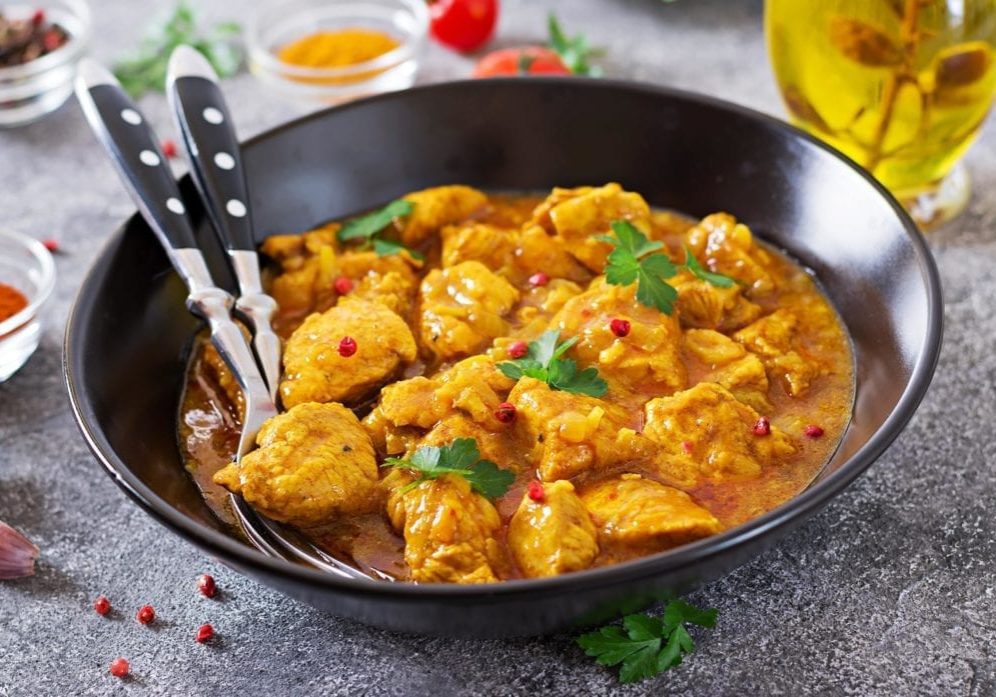 Love onions? You'll love a dupiaza
The word 'dupiaza' (or as it is sometimes spelt dopiaza) comes from Persian and means 'two onions'. It is, therefore, unsurprising that that this dish is prepared using plenty of onions cooked to produce the base sauce and then added again to complement the meat.
A dupiaza is usually prepared with king prawns, lamb or chicken. However, a dupiaza can also be a vegetarian recipe where potatoes or cauliflower are substituted for the meat and become the main ingredient to sit alongside the onions.
A sweet and mild curry ideal for those who don't like too much heat.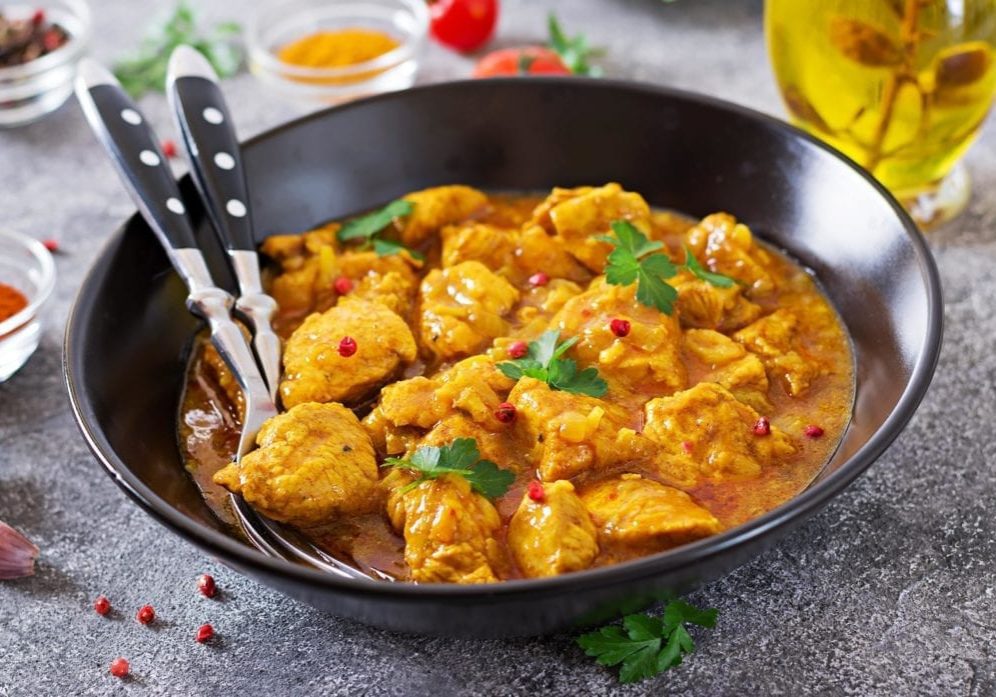 How to Make
Dupiaza (Dopiaza) Curry
We have designed this dupiaza recipe to be suitable for a meal for two and used chicken as the meat. Simply substitute the filling of your choice to create a different dish.
Heat the oil or ghee in a large wok on a medium heat and add your first batch of onions and the cumin seeds, cinnamon stick and cardamon pods. Fry gently until the onions are golden brown but nor burned.
Add the chicken and fry until browned.
Now add the cumin powder, chilli powder, coriander powder,  turmeric powder, ginger and garlic (chopped or paste)

, and tomato puree and fry all of the ingredients until the oil begins to separate from the mixture. Add salt to taste (but try it before you do).

Add the second batch of roughly chopped onions and mix well with the other ingredients. Gently fry until this batch of onions is soft and translucent, this should take about 3 to 5 minutes.

Add 150ml of water, stir and bring to a boil.
Reduce the heat to simmer gently and cook until the chicken is tender.
Keep cooking to reduce the sauce to a thick paste that covers the meat but is not runny.
Garnish with coriander
Serve with hot chapatis and rice.
What Does Dupiaza Taste Like?
This is a mild dish with an overall sweet taste from the onions and tomato base. You can vary the heat levels if you wish by adding more chilli but that takes the taste away from the classic dupiaza recipe.
Dupiaza Cooking Options
Pro cooking Tip: Instead of water you can add a base curry sauce at step 5 to give you a more British Indian Restaurant (BIR) style of dupiaza curry.
Ingredients for
Dupiaza (Dopiaza) Curry
1 x tablespoon oil or ghee if you prefer
2 x chicken breasts or equivalent thigh meat cut into pieces
1 x onion chopped finely
3 x garlic cloves finely chopped
2 x teaspoons chopped ginger or equivalent ginger paste
1/2 x tablespoon tomato puree
1 x onion roughly chopped
1 x teaspoon cumin seeds
2 x black cardamom pods
1 x 3cm piece cinnamon stick
1 x teaspoon salt if you like it saltier – taste before adding
1 x  red chilli powder, or to taste
1 x teaspoon cumin powder
1 x teaspoon coriander powder
Links to other recipes and useful information about this recipe: