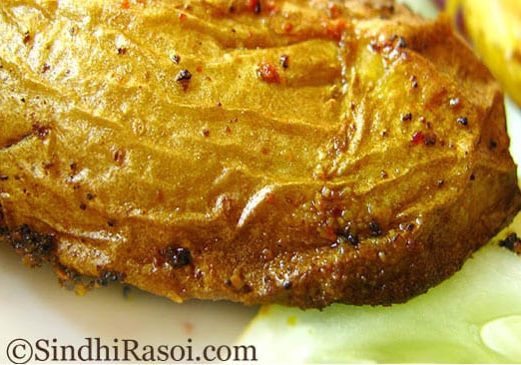 A suggested recipe for your kids lunch
Don't worry it is a nightmare for every child's parent. It's the same old thing every week when it comes to going food shopping and deciding the menu for the week.
But thanks to our new guest blogger Sindhi Rasoi, the nightmare is over. You can try this tawa aloo recipe to keep them happy.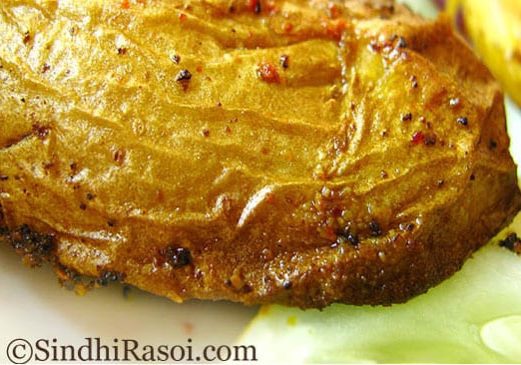 Serves 3
Prep time: 10 mins
Cook time: 25 mins
Total time: 35 mins
Pick 3 of almost same sized potatoes (or else the cooking time may vary). Be sure they don't have a green tinge, neither the skin should have any sprouts. Since we need to cook the potatoes with the skin, rinse the potatoes very well under running water and if necessary scrub with clean kitchen towel ( cloth) or maybe with some fresh tooth brush .
Now wipe the potatoes till completely dry. Cut each potato vertically into two halves.Run a sharp pointed knife through each potato piece, in crisscross fashion, making cuts at least half way through.
Now add some salt to these potatoes and leave aside for 5 minutes.Take care as not to let the potatoes turn black. Soak them in water if they tend to turn black.
Now mix coriander, red chilly and turmeric powder in a plate and stuff each potato mix with this spice mixture. You can add various other herbs too, like dried coriander leaves, kasoori methi, dried mint leaves etc.
Heat a skillet / fry pan/ tawa, pour around 2 tsp of oil and place each potato piece , with the skin side facing downwards. Cook on high flame for a minute or two, till the potato starts sizzling. Now lower the flame to minimum and add some more oil if needed.
Cover the skillet /pan or cover the tawa with some dome shaped vessel and let the potato cook well. Toss or turn the potatoes at intervals, so as to cook on both sides.
Sprinkle amchoor powder just when the potatoes are about to cook. Serve as a side dish with Dal , rice or with chapati and curry of your choice.
Ingredients for
Tawa Aloo
3 x Medium sized potatoes
Salt as per taste
1 x teaspoon turmeric powder
3 x teaspoons coriander powder 3
1/2 teaspoon red chilli powder ( to make it spicier, increase the quantity of red chillies)
1/2 teaspoon amchoor powder
Oil for shallow frying
Links to other recipes and useful information about this recipe:
Follow this link for more recipes from our guest blogger Sindhi Rasoi,