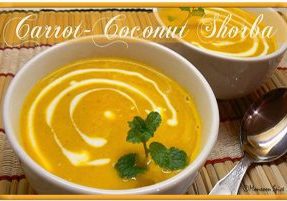 Fancy some soup? Try this Carrot Coconut Shorba soup recipe
Need something to warm you up? Then you can say "Thanks" to Monsoon Spice, our guest blogger today for this delicious soup recipe.
The burst of flavour you experience when sipping this bowl of soup is makes this recipe a keeper.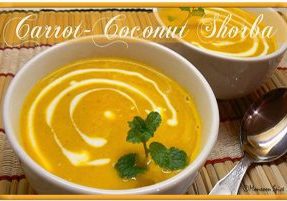 How to Make
Carrot-Coconut Shorba Soup
Carrots are considered to be one of the 'best vegetables' for a balanced diet. Sometime back I had watched Sanjeev Kapoor's recipe of Carrot-Coconut Shorba which immediately caught my attention. Carrot and coconut, a marriage made in heaven!!!
He used king of spices and Indian spices to spice up this sweet vegetable and creamy coconut milk. No more convincing was required to cook this for our dinner. Although carrot and coconut milk are the main ingredients which are sweet in flavour, the real punch comes from black peppercorns, chilli, fresh cilantro and other spices.
Serves 3 to 4
Prep Time: 5 mins / Cooking Time: 20 mins
Heat oil in a pan and add mustard seeds and curry leaves. When mustard starts to pop and splutter, add jeera and sauté.
When jeera starts to sizzle, add roughly sliced onion, whole green chillies, black peppercorns and sauté for a minute. Mix in sliced carrots, salt to taste and close the lid.
Cook the carrots covered without adding any water for five minutes, sautéing in between.
Add water, coriander leaves and cook for further five minutes over a medium heat till carrots turn tender. Drain the water and reserve.
When it is cool enough to handle grind carrot mixture adding little reserved stock at a time to smooth paste. Transfer reserved stock, ground carrot paste and cook for 2-3 minutes.
Mix in coconut milk and cook for another 2-3 minutes on a medium flame. Adjust the seasoning and serve hot garnished with a splash of coconut milk and enjoy.
Ingredients for
Carrot-Coconut Shorba Soup
4-5 medium Carrots, peeled and sliced to ½ cm pieces
1 cup Coconut Milk
1 medium Onion, roughly sliced
1 tsp Black Peppercorns (Adjust acc to taste)
2-3 Green Chillies (adjust acc to taste)
1 tsp Jeera/Cumin Seeds
½ tsp Mustard Seeds
1 tbsp Coriander Leaves, finely chopped
Few Curry Leaves
1 tsp Oil
4-5 cups Water
Salt to taste
Links to other recipes and useful information about this recipe:
Article recreated with kind permission of www.monsoonspice.com, please visit her blog to read more.
Recipe Source: Sanjeev Kapoor