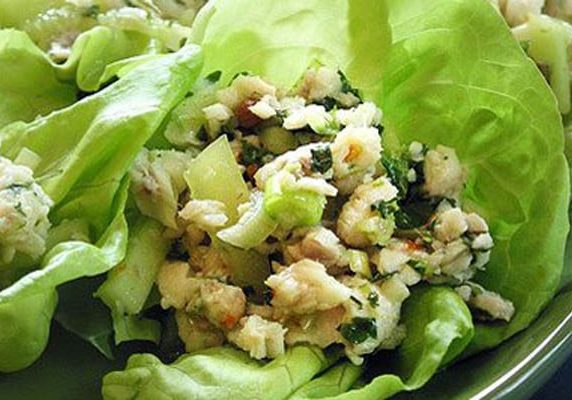 This spicy fish and cucumber salad is a Southeast Asian dish with a contrast of different flavours including sweet, sour, spicy and savory all mixed together.  This salad is made from plain white fish which is used as the base of the recipe and strips of cucumber are thrown in for a sweet and cool crunch.  You can add as many chillies as you like to give the dish a spicy edge.
As summer approaches us, are you thinking of something light and fresh to eat? Look no further – we have the perfect, cool dish to keep your taste buds ticking in this hot weather.
How to Make
Spicy fish and cucumber salad
serves 4
Start by heating two cups of water, salt, peppercorns and the wine in a large pot to boil
Reduce the heat to simmer and add the fish. Poach this at extremely low heat for 5 minutes
Remove the fish from the water and let it cool slightly, then shred this completely with two forks and stir together with the peppercorns
Peel and julienne the cucumber
Cut off the dry or brown tops of the scallions and chop the green and white parts finely into thin rounds, then set these aside
In a food processor blend together the lime juice, fish sauce, soy sauce, garlic, lemongrass and chillies until well blended
Taste and adjust the sauce until balanced to your taste. Pour this over the fish and toss in cucumbers and scallions
Refrigerate for an hour to let the flavours come together and then serve on beds of Boston lettuce
This recipe is great for a light lunch or a snack in the evening. Enjoy and let us know what you think?
Ingredients for
Spicy fish and cucumber salad
1 pound fish – tilapia or another mild, thin white fish
2 x tablespoons Sichuan peppercorns
2 x teaspoons salt
1 x cup white wine (optional)
1 x cucumber
1 bunch (4-6) scallions
Juice of four small limes
3 x tablespoons fish sauce
1 x tablespoon soy sauce
4 x garlic cloves
3 x stalks lemongrass, tenderest inner parts only
2 x dried red chilies, crushed
Boston lettuce leaves, to serve
Links to other recipes and useful information about this recipe: