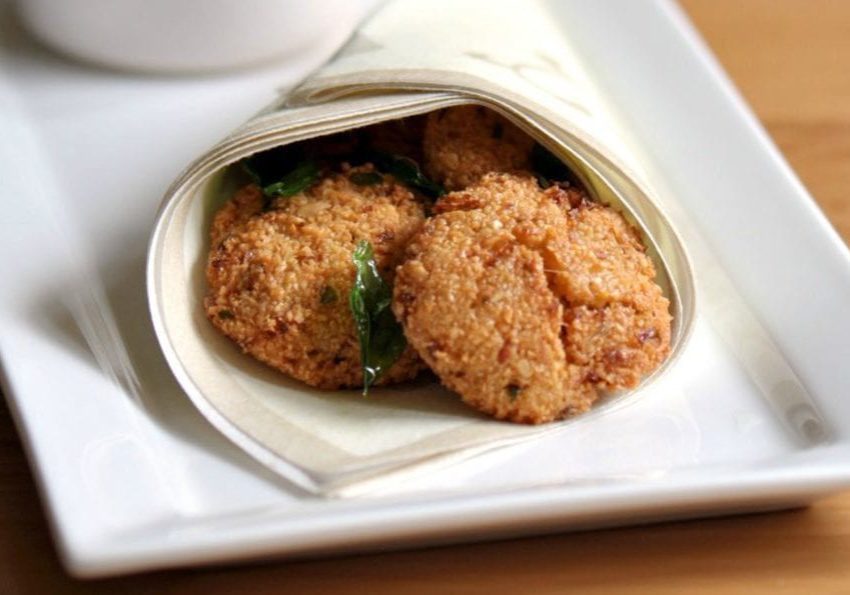 This is a simple South Indian style recipe by one of our Guest Chefs, Sheba Promod founder of Absolute Indian.
Sheba is on a journey to share the many different flavours of South Indian food with others.
Parippu vada is a savoury snack, which can be enjoyed at any time of the day and goes really well with a hot cuppa!  These lentil fritters are crunchy, mildly spicy and somewhat meaty in their texture.  This quick and easy recipe is made from a combination of sweet and spicy flavours.
How to Make
Parippu Vada (lentil fritters)
Serves 2-3
Using a food processor, grind the soaked and drained channa dal until it resembles a coarse crumb like texture (NOT a paste)
In a large bowl, add all the ingredients including the ground dal and combine. Leave this aside for 15-20 mins (to allow the moisture from all the ingrediants to blend, making it easier to form the vada patties)
To make the vadas, make a ball (slightly smaller than a golf ball) from the mixture and then flatten using the palms of your hand
Heat the oil in a deep pan until at boiling temperature
Now carefully drop the balls in the pan which should turn golden brown within 2-3 minutes (these can be fried in batches of three to four depending on the size of your pan)
Then serve immediately with a choice of your favourite sauce
These tasty little snacks can be served with a range of different dips like all the old time favourite tomato ketchup, chilli or mint sauce.
Ingredients for
Parippu Vada (lentil fritters)
1 cup channa dal (soaked for at least 4 hours beforehand)
2 x green chillies, finely chopped
3 x shallots, finely chopped
1 ½ x teaspoon minced ginger
½ x teaspoon asafoetida
1 teaspoon salt
10-12 curry leaves, roughly chopped
oil for deep frying
Links to other recipes and useful information about this recipe: