Our guest blogger today is "Cooking with Siri"…
Do you need any more reasons for including this extremely nutritious and yummy food in your daily meal plans? Start with today's recipe, "Spicy Egg Masala".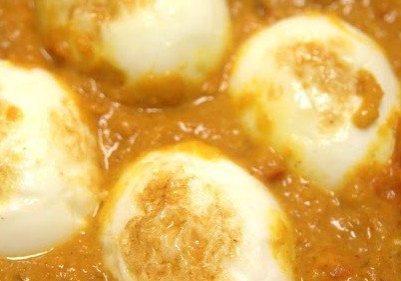 How to Make
Spicy Egg Masala
Blend onion, green chilli,ginger and tamarind with little water into a thick paste.
Heat ghee and oil mix in a pan and add the onion paste and saute it till golden brown on medium heat. This will take a little while, around 5-6 mins, so be a little patient 🙂
Add the gram flour and saute for a minute. Then add all the dry spices and saute again for another minute. Sprinkle 1/4 cup of water.
Add the tomatoes and saute until the oil separates from the tomatoes.
Add the milk, 1/2 cup of warm water and cook over low heat for 7-8 minutes or until the sauce reaches the required thick consistency.
Note: Heat 1/4 tsp of oil in a separate pan and drop the boiled eggs for a golden brownish char on them. This is totally optional.
Add eggs, cook for 2 more minutes. Serve with any plain rice, biryani or roti.
Ingredients for
Spicy Egg Masala
4 x boiled eggs, shelled
1 x medium onion, chopped
2 x tomatoes, roughly chopped
2-3 x green chillies, finely chopped
1 x teaspoon finely chopped fresh ginger
2 x tablespoons of gram flour/chickpea flour/besan
1 teaspoon of ghee + 1 tsp of canola oil
1/2 teaspoon tamarind pulp
1/2 cup of milk
salt to taste
1 cup warm water
dry spices – 1/4 teaspoon of turmeric, 1/2 teaspoon of garam masala and 1 teaspoon of each: red chilli powder, coriander-cumin powder
Links to other recipes and useful information about this recipe:
Recipe recreated with kind permission of www.cookingwithsiri.com, please visit her blog to read more.