A warming bowl of spicy laksa that is quick and easy to make.
This recipe is brought to you by Steenbergs, providers of organic spices and cooking ingredients.
Laksa is a popular spicy noodle soup from Southeast Asia and can be found in Singapore, Malaysia, parts of Thailand and Indonesia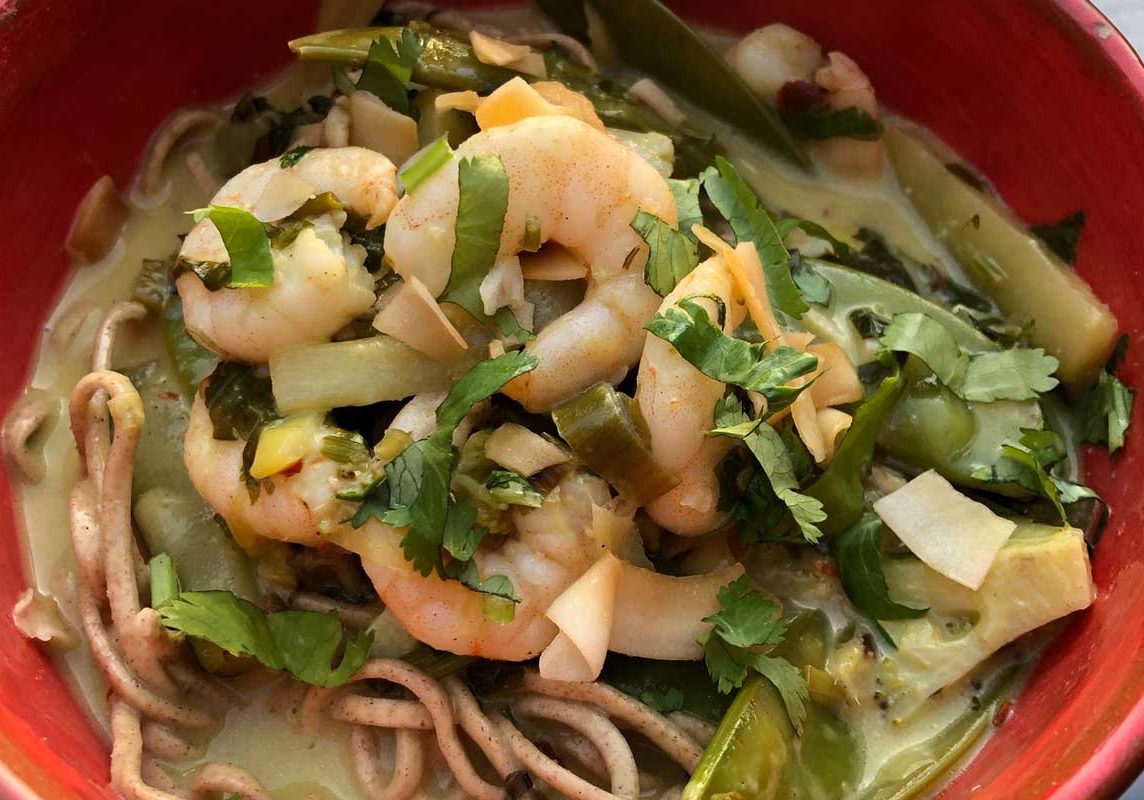 How to Make
Prawn and Coconut Laksa
A nice easy recipe that is suitable for all levels of cookery skills.
Heat the oil in a wok or similar and fry the garlic, ginger and spring onions for a couple of minutes.
Add the spice blend and cook for a couple of minutes to release the lovely aromas.
Add the vegetables and stir fry for 5 minutes until softened.
Add the coconut milk and simmer gently for 15 minutes.
Add the prawns and cook until the prawns are cooked (5 minutes)
In the meantime, cook the noodles as per the instructions.
Serve a handful of noodles in each bowl and top with the prawn and vegetable curry and a ladleful of sauce.
Sprinkle with fresh coriander and coconut flakes to serve.
Ingredients for
Prawn and Coconut Laksa
3 x tablespoon vegetable oil
2 x garlic cloves, peeled and finely chopped
5cm piece of ginger, peeled and finely chopped
5 x spring onions, chopped
2 x tablespoon Steenbergs Laksa spice blend
150g of mangetout
1 x courgette, sliced
1 x small head of broccoli, cut into small florets/or one pack of Pak choi
2 x 400ml tins of coconut milk
1 x teaspoon fish sauce
1 x lime, juiced
350g x raw frozen king prawns, defrosted
340g x pack of medium noodles, cooked as per packet instructions
Chopped coriander and toasted coconut flakes to garnish
Links to other recipes and useful information about this recipe:
More information about the Steenbergs range can be found on their website.
And you can find our more about their ingredients for this recipe on the Prawn & Coconut Laksa page.