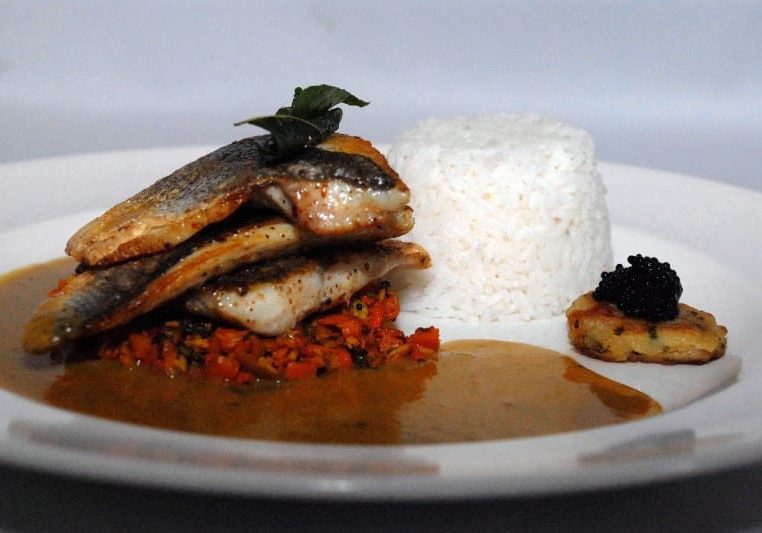 Our guest chef for this Indian fine dining recipe is Asian chef of the Year 2019, Chef Dev Biswal, owner of the Ambrette Restaurant.
This sea bass, herb marinade, Keralan style moilee sauce highlights the brilliant dishes available for those of you lucky enough to live near to the Ambrette.
For the rest of us, we are just going to have to try it at home.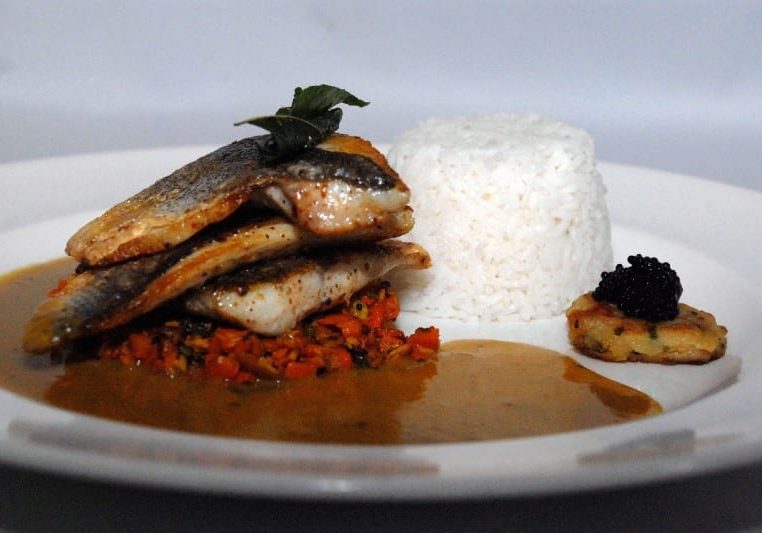 How to Make
Sea Bass Keralan Style
Fish:
Blitz all the marinade ingredients in the oil to create the marinade. Place the fish in a shallow dish and add the marinade ensuring the fish is entirely covered. Rest the fish in the marinade for an hour.
Roast the fish in an oven for 8-10 minutes at 180-200 degrees (fan).
Sauce:
Heat the oil in a pan and add the mustard seeds. When they splutter add curry leaves and asafoetida. Then add the chopped onion and chopped ginger and cook for around 3 minutes on a medium heat until the onion and ginger are soft. Then add the green chilli,the ground turmeric and red chilli powder.
Add the chopped tomatoes and cook together for 5 to 8minutes on a medium flame.
Then add the coconut milk and adjust the seasoning to taste.
Simmer the sauce on a low heat for 8-10 minutes.
Finish with a squeeze of fresh lime.Place the sauce in a shallow bowl and plate the fish on top to serve
Ingredients for
Sea Bass Keralan Style
For the fish and marinade:
4 x Fillets of Sea bass
25ml Rapeseed Oil
1 x Stick Lemongrass
2 x teaspoon finely chopped ginger
½ Green Chilli
1 x teaspoon Chaat Masala
Salt to taste
Juice of half a lemon and zest
8 x Lime leaves
100 grams Coriander roots
For the sauce:
25ml coconut oil
½ tsp Mustard Seeds
1 sprig of curry leaves
1 x teaspoon of Asafoetida
1 x chopped Red Onion
2 inches of ginger finely chopped
Half a green chilli finely chopped
2 x teaspoon of ground turmeric
1 x teaspoon of red chilli powder
1 x Medium sized tomato finely chopped
100ml Coconut Milk
Squeeze of fresh lime
Links to other recipes and useful information about this recipe:
For more recipes from Chef Dev Biswal visit the Ambrette website