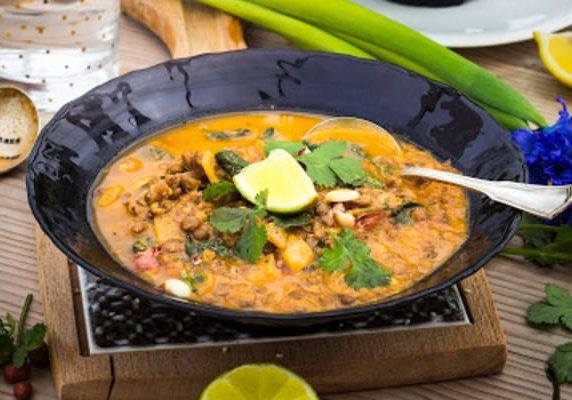 Guest chef Astrid Mitchison brings us her highly popular Peanut Butter Curry.
One of the most popular recipes on her Halo Eats website Astrid says "peanut butter adds a depth of flavour whilst the spices add a warming kick."
If you can allow this curry to rest for a day or two before eating this allows the flavours to infuse but if you just can't wait, dig in and enjoy!
This recipe is not only suitable for vegans but is also dairy-free and refined sugar free.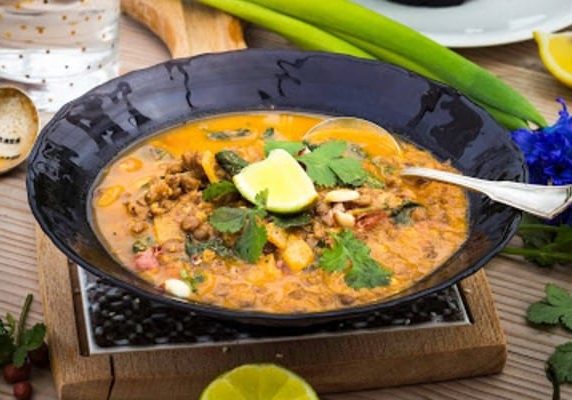 How to Make
Peanut Butter Curry
Serves 4-5
Enjoy immediately
1) In a large saucepan over a medium heat on the hob, melt the coconut oil. Add the onion and lightly fry until softened. 
2) Next add the garlic and ginger and fry for a further 1-2 minutes before adding the spices (cumin, coriander, turmeric, cayenne pepper and chilli). Stir to combine. 
3) Add the lentils and stir ensuring that they are evenly coated with the spice mixture.  
4) Add the chopped tomatoes, followed by the vegetable stock and stir. At this point the curry will look rather watery but don't worry as it will reduce as it cooks! 
5) Increase the heat and add the peanut butter, stirring to dissolve.
6) Reduce the heat and simmer for 20 minutes, stirring occasionally.
7) Finally, add the spinach and stir into the curry, heating through just until it starts to wilt.
Ingredients for
Peanut Butter Curry
1 x heaped tablespoon coconut oil
1 x onion, finely chopped
3 x cloves garlic, crushed
1 inch piece fresh ginger, grated
1/2 teaspoon ground cumin
1/2 teaspoon ground coriander
1/2 teaspoon ground turmeric
1/2 teaspoon cayenne pepper
1/4 teaspoon hot chilli powder
2 x 400g tins green lentils, drained
1 x 400g tin chopped tomatoes
500ml vegetable stock
1/3 cup (80ml) crunchy peanut butter
2 x large handfuls spinach
Links to other recipes and useful information about this recipe:
You can find more of Astrid's vegan recipes on her Halo Eats website.
And you can talk with her on twitter @HaloEats and follow her on Instagram @halo.eats