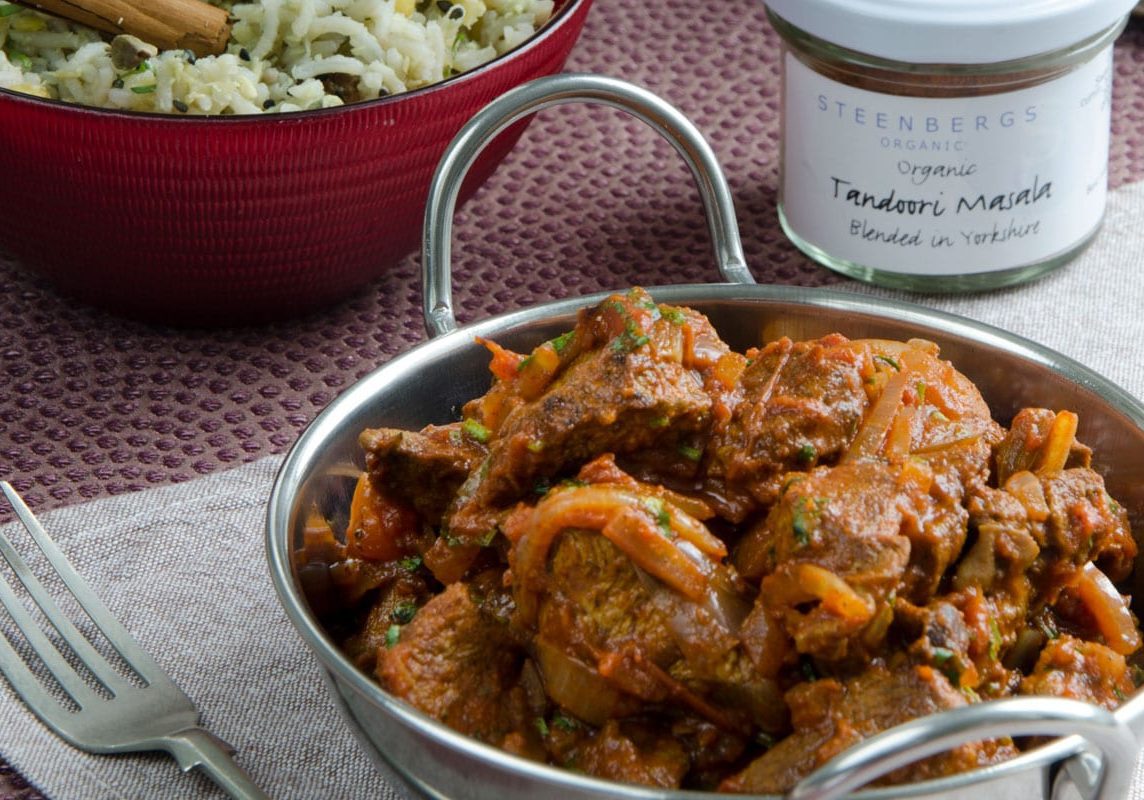 This Tandoori Lamb Curry with scented rice & onion seed naan is brought to us courtesy of Steenbergs.
Although not seen as an "official" curry this dish is very popular and is full of flavour. You can adjust the heat level to your own liking by adding more or less chilli powder.
If you don't have time to make the naan breads you can of course substitute ready made ones or another type of bread such as a roti or paratha.
How to Make
Tandoori Lamb Curry
Serves 4
Put the lamb, Steenbergs Tandoori seasoning and yoghurt into a bowl and mix, leave to marinate for 2 hrs or ideally overnight.
Fry the onion, garlic, cumin, coriander, chilli powder in the veg oil for 2-3 minutes, add the tinned tomatoes and simmer for 15 minutes.
Place the pieces of marinated lamb on a baking tray and grill on a high heat until coloured, transfer the lamb to the tomato sauce once cooked.
For the bread: Mix the wet ingredients in a bowl and add to the dry ingredients, knead for 10mins until stretchy, add more flour if the dough is too sticky.
Form 5 balls from the dough and cover with a damp tea towel, allow to prove in a warm place for 15 minutes.
Roll out the dough into circles and sprinkle with nigella seeds, pressing them in a little.
Place the Indian rice in a pan, snap in a cinnamon quill and pour in boiling water, boil for 10 minute until cooked.
Grill the breads on a high heat until risen and coloured.
Garnish the curry with chopped coriander and serve with rice and Nigella seed naan breads
Ingredients for
Tandoori Lamb Curry
For the tandoori lamb
600g diced lamb shoulder or leg
50g Steenbergs organic Tandoori seasoning
1 x teaspoon natural yoghurt
25 ml organic sunflower oil
1 x onion diced
2 x cloves garlic minced
25g x Steenbergs organic ground cumin
25g x Steenbergs organic ground coriander
25g x Steenbergs organic chilli powder
1 x tin organic chopped tomatoes
1 x large bunch of coriander
For the naan breads
250g/9oz organic plain flour
2 x teaspoons sugar
½ teaspoon salt
½ teaspoon baking powder
110-130ml/3½-4½fl oz milk
2 tablespoon vegetable oil, plus extra for greasing
2 tablespoon Steenbergs Organic Nigella seeds
For the aromatic rice
1 x packet Indian rice
1 x Steenbergs organic Fairtrade cinnamon quill
1 x teaspoon Steenbergs organic perfect salt
Links to other recipes and useful information about this recipe:
You can follow this link to see the full recipe on the Steenbergs website and also view their full range of spices and ingredients.