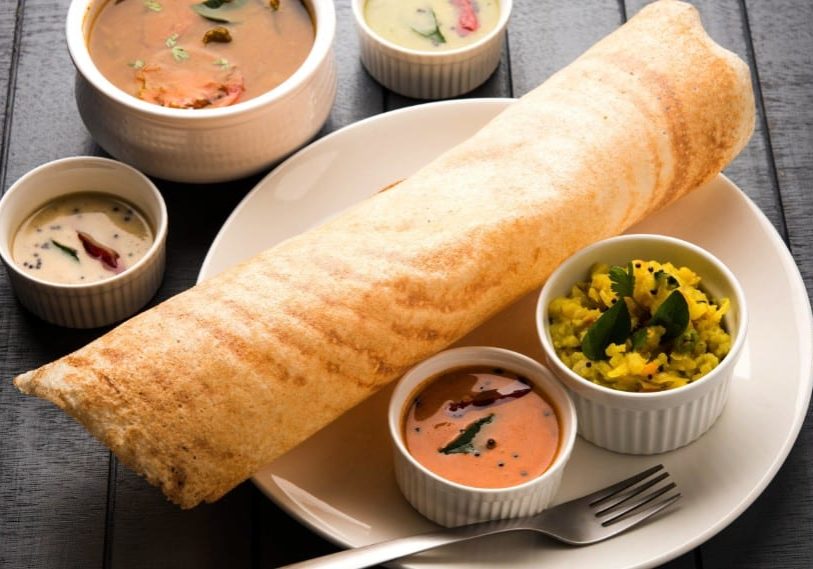 Guest Chef Dev Biswal gives a classic Indian street food recipe. Dosai with gently spiced potatoes, mustard and onions.
A dosa is a simple pancake, originating from South India, made from fermented batter. They look very similar to thin pancakes or crepes. You can add just about any fillings you wish to make a great snack or light meal.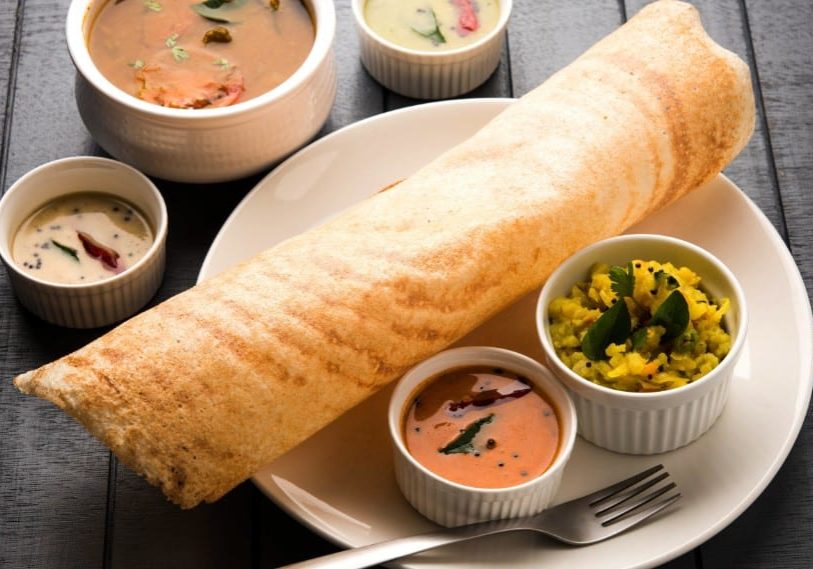 How to Make
Dosa with Potatoes and Onions
Batter:
Leave the rice and lentils to soak in water for 2 hours.
Blend into a thick batter. Add sugar and 1tsp salt.
Leave to ferment for at least 24 hours in a cool dry place.
Potato:
Pre heat a pan and add 2tbls of oil.
Add the mustard seeds, Asafoetida and curry leaves to the oil and wait until they start popping.
Add the onion and gently sauté until translucent.
Add the ginger, fresh green chilli, then the turmeric powder and red chilli powder.
Finally add the grated potatoes and season with salt and lemon juice and mix.
Making the dosai:
Use a non-stick frying pan and place on a medium heat.
Pour one ladle of the dosai batter into the centre of the pan and spread in a circular motion, once batter is evenly spread, drizzle with vegetable oil.
Beware not to make the dosai too thin as this will cause it to burn.
Ingredients for
Dosa with Potatoes and Onions
1 cup White rice
1/4 Medium onion diced
1 x teaspoon Turmeric powder
1 x teaspoon Mustard seeds
1 x teaspoon Red chilli powder
1" Finely chopped Ginger (2 teaspoons)
Juice of ½ a lemon
2 tablespoons Mustard or vegetable oil
1/3 cup White lentils
1/3 cup Yellow lentils1tsp Sugar
2 x Boiled potatoes
¼ Fresh Green Chilli Salt to taste
1 x teaspoon Asafoetida (optional)
1 Sprig Curry Leaves (optional)
Links to other recipes and useful information about this recipe:
For more recipes from Chef Dev Biswal visit the Ambrette website