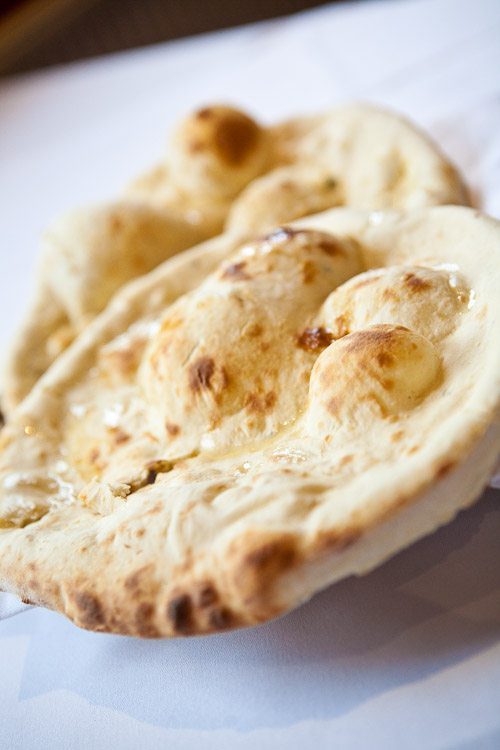 Naan bread is one of those things that many people buy from the supermarket but if you have the time and can be bothered, it's worth making your own as they taste much nicer. I had to have a few goes to get them how I wanted them but now they are my go to breads. I make them 12 at a time and freeze most for later use.
Here's a typical recipe (using instant yeast) that I use:
Naan Bread Recipe
Ingredients:
300g (2 1/2 cups) plain flour
1 teaspoon sugar
1 teaspoon salt
1/2 teaspoon baking powder
1/2 teaspoon baking soda
7g (1 packet) instant yeast
120ml (1/2 cup) warm water
120ml (1/2 cup) natural yogurt
1 tablespoon vegetable oil
Butter or ghee for brushing
Fresh coriander leaves, chopped (for garnish)
Instructions:
1. Activate the Yeast:
a. In a small bowl, combine the warm water and sugar. Stir in the instant yeast and let it sit for about 5 minutes, or until it becomes frothy.
2. Prepare the Dough:
a. In a large mixing bowl, combine the flour, salt, and baking powder.
b. Make a well in the center of the dry ingredients and pour in the activated yeast mixture, yogurt, and vegetable oil. Mix to form a soft dough.
c. Knead the dough for about 5-7 minutes until it becomes smooth and elastic. If the dough is too sticky, you can add a little more flour.
3. Rise the Dough:
a. Place the dough in a greased bowl, cover it with a clean kitchen towel, and let it rest for 1-2 hours or until it has doubled in size.
4. Preheat the Grill:
a. Preheat your grill to high heat (about 220°C or 425°F) for 10-15 minutes. If you have a pizza stone or baking steel, place it in the grill to get hot.
5. Shape and Grill the Naan:
a. Divide the risen dough into 6 equal portions and roll each portion into a ball.
b. On a lightly floured surface, roll out each ball into an oval or teardrop shape, about 1/4 inch thick.
c. Carefully place the rolled-out naan onto the hot grill or onto the preheated pizza stone or baking steel.
d. Cook for 2-3 minutes on each side, or until they puff up and become golden brown with grill marks.
6. Brush and Garnish:
a. Remove the naan from the grill and immediately brush with melted butter or ghee.
b. Sprinkle with freshly chopped coriander leaves for extra flavor and presentation.
7. Serve and Enjoy:
Serve your naan bread warm with your favorite Indian curries, chutneys, or use it as a delicious flatbread for wraps. Enjoy!
This recipe allows you to make soft and fluffy naan bread quickly using instant yeast while still preserving the traditional naan flavor.