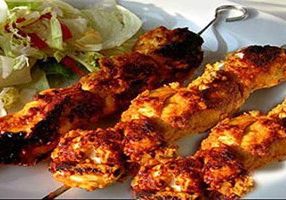 An original Kashmiri recipe made with succulent pieces of chicken with a light and mild sauce.
Irani chicken boti is a style that can be used for chicken wings, chicken thighs or as kebab on a skewer. It's perfect for barbecues, sharing platters and parties.
How to Make
Irani Chicken Boti
Put the chicken thighs to a large mixing bowl.
Add the garlic/ginger paste, black pepper, yogurt, mayonnaise, garam masala, lemon juice and salt to taste.
Mix well.
Transfer to a hot frying pan or grill and cook for around 15 – 20 minutes or until the chicken is tender and cooked through.
Irani Chicken Boti Cooking Options
You can also of course prepare this dish on a barbecue but as with any barbecued chicken, make sure it is cooked all the way through before serving.
Ingredients for
Irani Chicken Boti
5kg chicken thighs
1 x chef spoons garlic/ginger paste
1 x chef spoons yogurt
5 x chef spoons mayonnaise
30ml lemon juice
3 x tablespoons black pepper
½ tablespoon garam masala
1 ½ tbsp salt
Links to other recipes and useful information about this recipe: