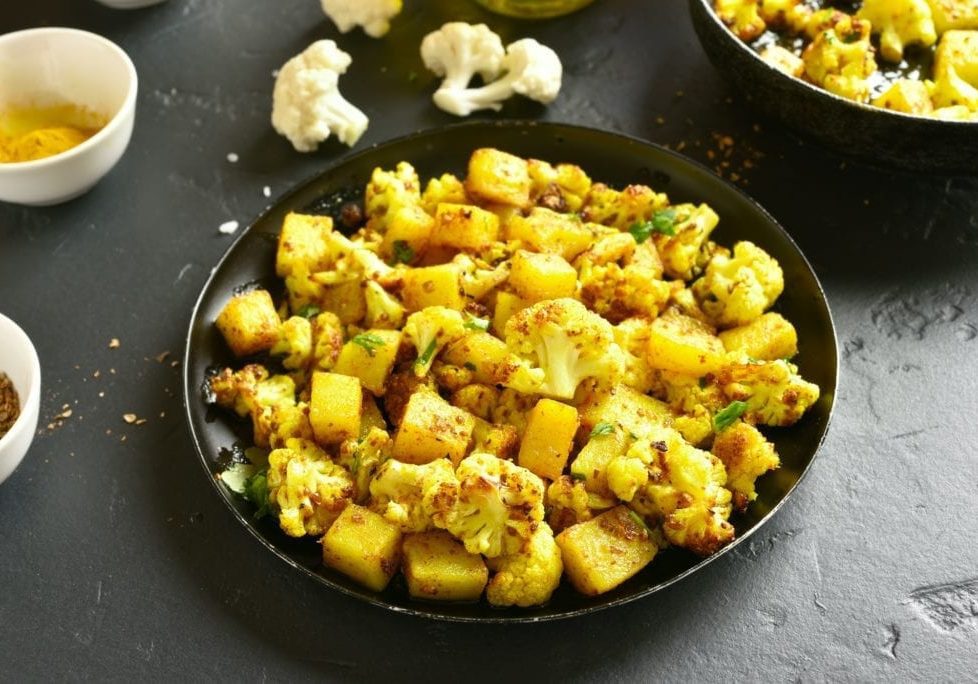 This aloo ghobi recipe will give you a mild spice level.
A delicious vegetarian dish consisting of potatoes (aloo) and cauliflower (gobhi).
Very popular across India and Pakistan with many different variations as additional vegetables are added to give it a different twist. The end product has a yellow tinge from the turmeric in the recipe.
Commonly served as a side dish, you can add peas kale or cabbage to vary the taste.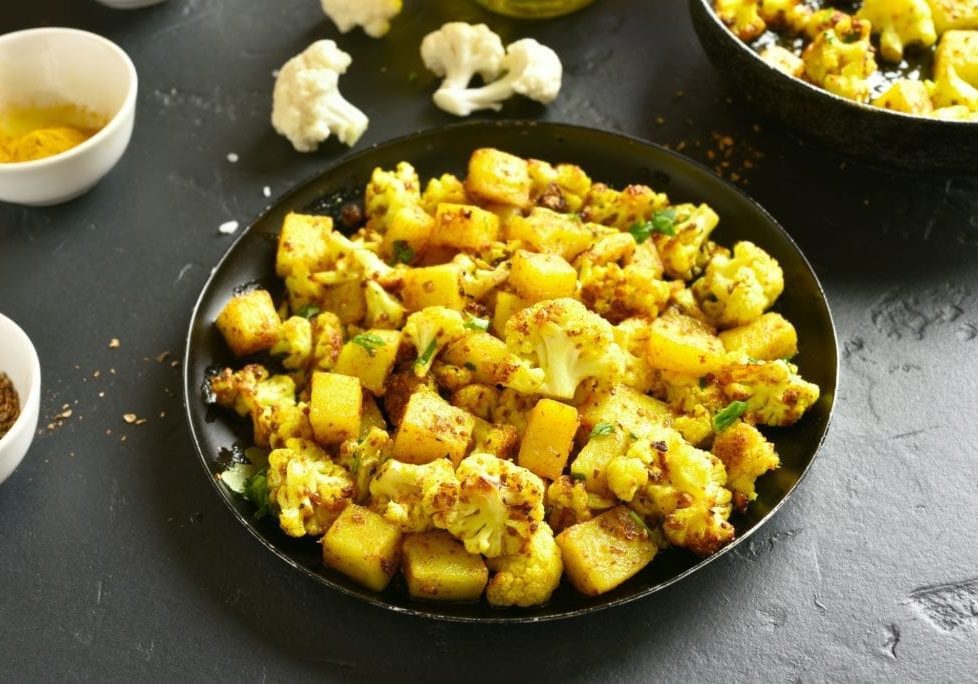 How to Make
Aloo Gobhi (Gobi)
Serves 2 to 3
To a large pan add the olive oil and your onion thinly sliced.  Cook on medium heat until until softened (5 to 10 minutes). Do not allow the onions to brown too much, they should be soft not crisp.
Add your ginger, chillies, turmeric and cumin seeds and stir well together and fry for 1 minute.
Add the tinned tomatoes and stir through.
Now add your potato cut into small chunks. Coat in the spices and tomatoes and cook for 2 minutes.
Add the cup of water or vegetable stock, whichever you are using and the cauliflower florets. Stir together and cook for a further 2 minutes.
Sprinkle on the fresh chopped coriander and some more water if required. Stir well.
Cover and simmer gently for 10 – 15 minutes.
Stir and check potatoes are cooked.
Pour into a dish and serve garnished with sliced ginger, green chillies and fresh coriander.
Aloo Ghobi Recipe Cooking Options
If you like your dishes with a bit more heat then add some chopped green chillies or more crushed chillies to reach the spice level you prefer.
This dish is also great when other vegetables are added such as kale and cabbage.
Ingredients for
Aloo Gobhi (Gobi)
1 x tablespoon olive oil
1 x large onion, sliced thin
1 x teaspoon chopped ginger
½ x teaspoon crushed chillies
½ x teaspoon turmeric
½ x teaspoon cumin seeds
75ml x chopped tinned tomatoes
1 x large potato cut into small chunks
1 x cup of water or vegetable stock
½ x cauliflower cut into small florets.
1 x small handful chopped coriander
Sliced ginger, green chillies and fresh coriander (optional)
Links to other recipes and useful information about this recipe: