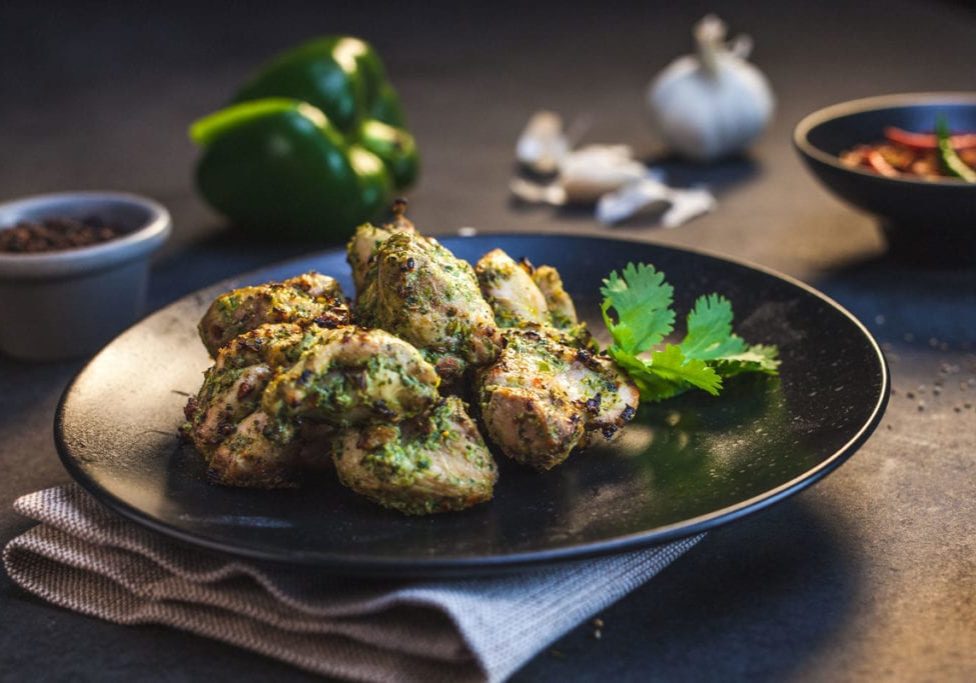 This recipe comes courtesy of the Indian Ocean Restaurant in Ashton and their Executive Chef Nahim Aslam
Chunky grilled or fried chicken marinated in a yogurt dressing flavoured with lemon and garlic and rolled in a blend of green leaves, fresh herbs and green chillies.
A delicious dish that can be served as an appetiser or starter or as a canape or snack.
This dish is ideal for parties.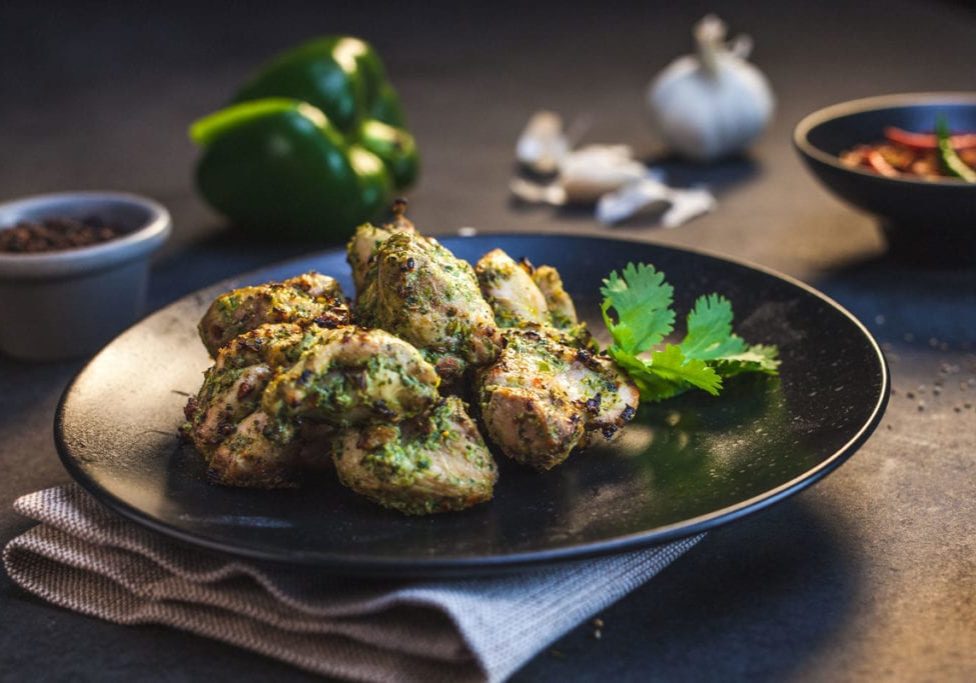 How to Make
Chicken Hari Boti
Chop the spring onions, coriander, mint, green pepper and green chillies. Add to a blender with a bit of the lemon juice and oil and blend.
Gradually add the rest of the lemon juice until the mixture has a thick gooey consistency.
Add the mixture and the chicken pieces into a large mixing bowl.
Add the garlic/ginger paste, chilli powder, black pepper, yogurt, mayonnaise, garam masala and salt to taste. Mix together well.
Leave to marinade in the fridge for a couple of hours. You can cook it right away but it is better if it has been left to rest for an hour or so.
Transfer to a hot frying pan and cook the chicken for around 5 minutes stirring frequently. Make sure the chicken is tender and cooked through.
You can also grill the chicken to cook it, turning frequently so it doesn't burn.
Serve as a starter with pickles and chutnies or as part of a sharing platter.
For a similar dish but with less of a spicy kick, try their Irani Boti recipe.
Ingredients for
Chicken Hari Boti
Adjust the batch size according to the number of guests
Chef spoon = 2.5 tablespoons
5kg chicken
1 x chef spoon garlic/ginger paste
2 x chef spoons yogurt
1 x chef spoon mayonnaise
2 x teaspoon garam masala
1 x teaspoon black pepper
60ml lemon juice
1 x teaspoon chilli powder
1/2 x bunch fresh coriander
1/2 x bunch fresh mint
75g green chillies
6 x spring onions
1/2 x small green pepper
pinch salt to taste
Links to other recipes and useful information about this recipe:
Find out more about the Indian Ocean Restaurant and their great menu