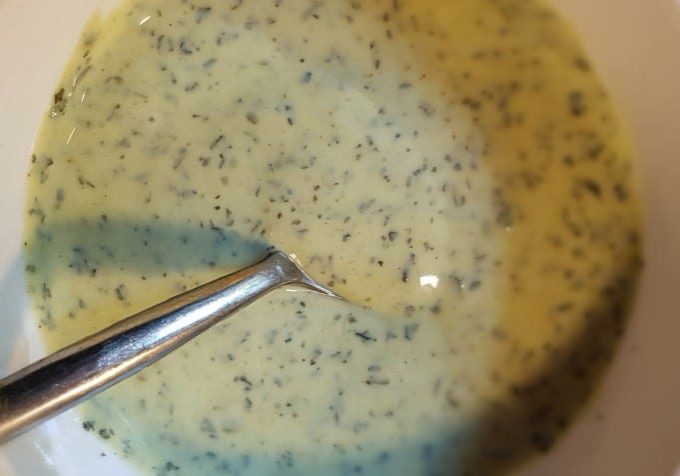 Super easy Indian mint sauce made to the Editor's own recipe.
This is a very quick and easy recipe for a mint sauce dip to go with your poppadoms and starters. You can easily adjust it to your own taste.
It's best prepared fresh and ready to use and only takes a couple of minutes at most to make.
How to Make
Indian Mint Sauce
This super fast recipe will give you a classic Indian restaurant style mint sauce.
Serves 2 to 4 as a dip.
Add the yogurt to a small bowl and mix in the mint sauce.
Add the turmeric, mix and taste, add more in small amounts to your taste but don't go mad.
Add a large pinch of salt and around a quarter of a teaspoon of sugar and again taste and adjust.
Add the ground cumin.
Mix well and store in the fridge ready for serving.
You can play around with these quantities but I found them just about right. You can also try adding chilli if you want to give it a bit of bite but for me the classic Indian mint sauce is not spicy.
Indian Mint Sauce Cooking Options
Pro Cooking Tip: Options include a splash of lemon juice, fresh chopped coriander and chopped green chillies. We recommend you start simple (the idea of this recipe is to give you something quick and easy to make) and then build from there.
Ingredients for
Indian Mint Sauce
1 x small pot of yogurt (adjust depending on the number of people eating)
2 x teaspoons pre-pared classic British mint sauce
Large pinch of turmeric
1/2 teaspoon ground cumin
Salt and caster sugar to taste
Links to other recipes and useful information about this recipe:
There are dozens of Indian Mint Sauce recipes available with a simple Google search and we don't have any preference as to which one you should use.