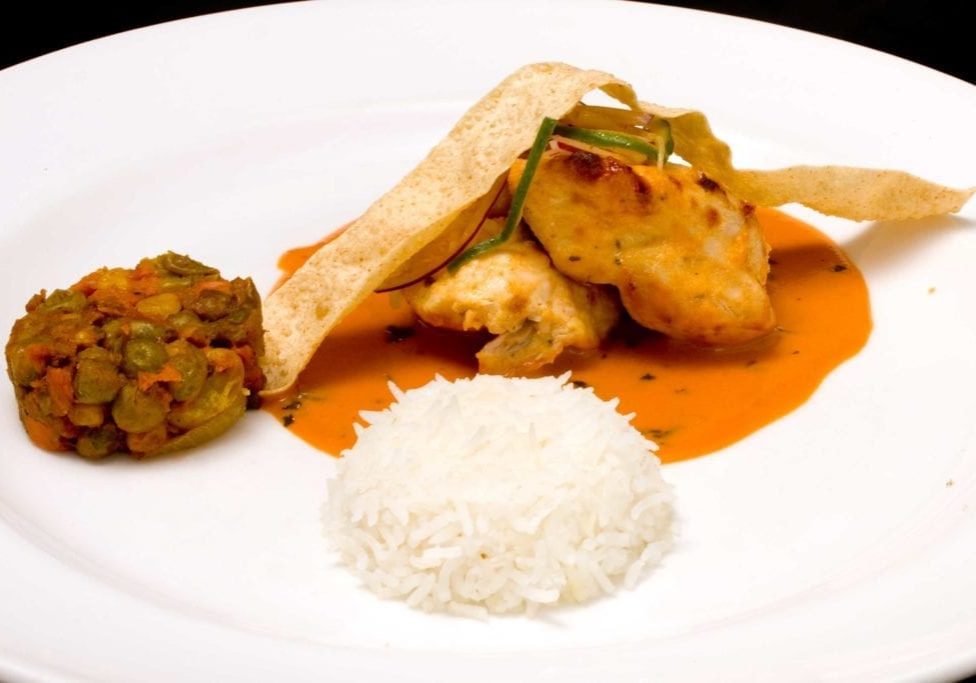 This delicious chicken recipe comes to us courtesy of Des Biswal and the Ambrette Restaurant.
Breast of British chicken char grilled then finished in an Old Delhi style sauce of tomatoes and dry spices. 
Something for a special occasion this a delicious Indian style chicken dish and an alternative when you are looking for something to enjoy other than a traditional chicken curry recipe.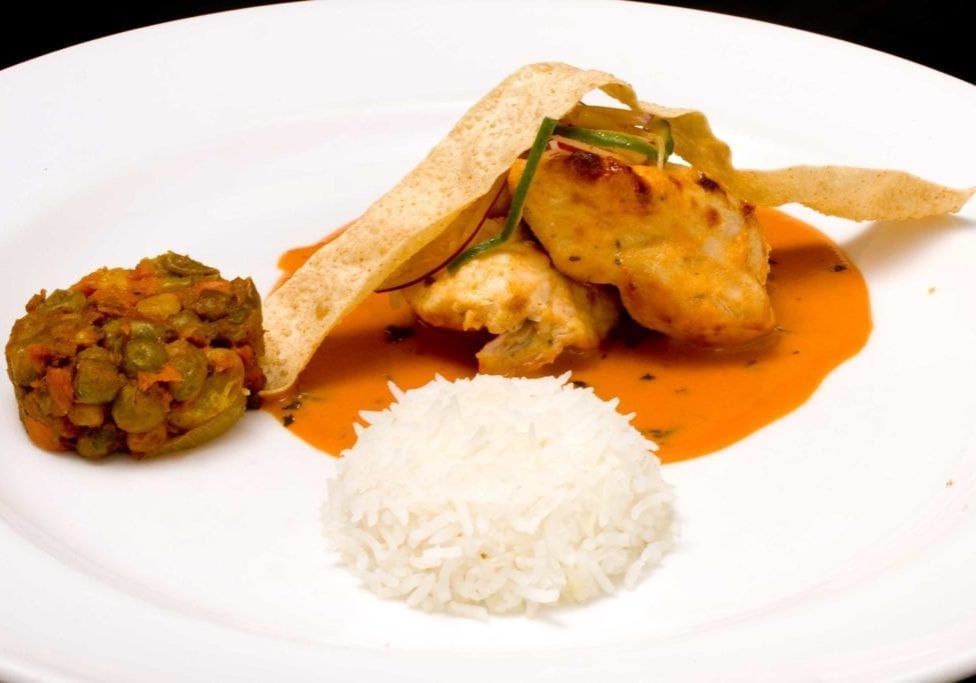 How to Make
Chicken Old Delhi Style
Step 1. Clean the chicken breasts
Step 2. Make a smooth paste of ginger and garlic
Step 3. Roast the gram flour on a dry pan and keep aside
Step 4. Chop the tomatoes
Step 5. Hang the yoghurt in a thin cloth to drain water
Step 6. Marinate the chicken breasts in 20gms of ginger and garlic paste , 20ml lemon juice and 5gms chilli powder. Set aside for an hour.
Step 7. Make second marination with 50gms hung yoghurt, 20gms roasted gram flour , 3gms red chilli powder, 3gms garam masala or spice mix powder and 75mls of mustard oil. Marinate chicken and set aside for four hours
Step 8. Roast in a pre heated oven (350 F) for 8-10 mins
Step 9. Melt 150 gms of butter in a pan , add 5gms of cinnamon, 5gms of cardamom and 5gms of cloves. Crackle the whole spices. Add 20gms of ginger garlic paste and stir over medium heat till liquid evaporates. Add 250gms of chopped tomatoes and approximately 300ml of water, cover and simmer until cooked.
Step 10. Force the sauce into a fine sieve and keep aside
Step 11. Melt the remaining 150gms of butter , add the sieved gravy and bring to boil
Step 12. Add the roasted /grilled chicken breasts and stir in the cream
Step 13. Season with salt, sugar and 5gms fenugreek powder
Serve hot with boiled rice and vegetables of your choice.
Ingredients for
Chicken Old Delhi Style
Chicken breasts 800 gms
Ginger 25gms
Garlic 10 cloves
Lemon juice 20ml
Chilli powder 5gms
Yoghurt, 50gms
Roasted gram flour , 20gms
Red chilli powder, 2gms
Garam masala 5gms
Mustard oil. 75ml
Butter 300 gms
Cinnamon, 5gms
Cardamom 5gms
Cloves. 5gms
Tomatoes 250gms
Fenugreek powder 5gms
Links to other recipes and useful information about this recipe:
Learn more about Dev Biswal and The Ambrette by visiting the Ambrette restaurant website.