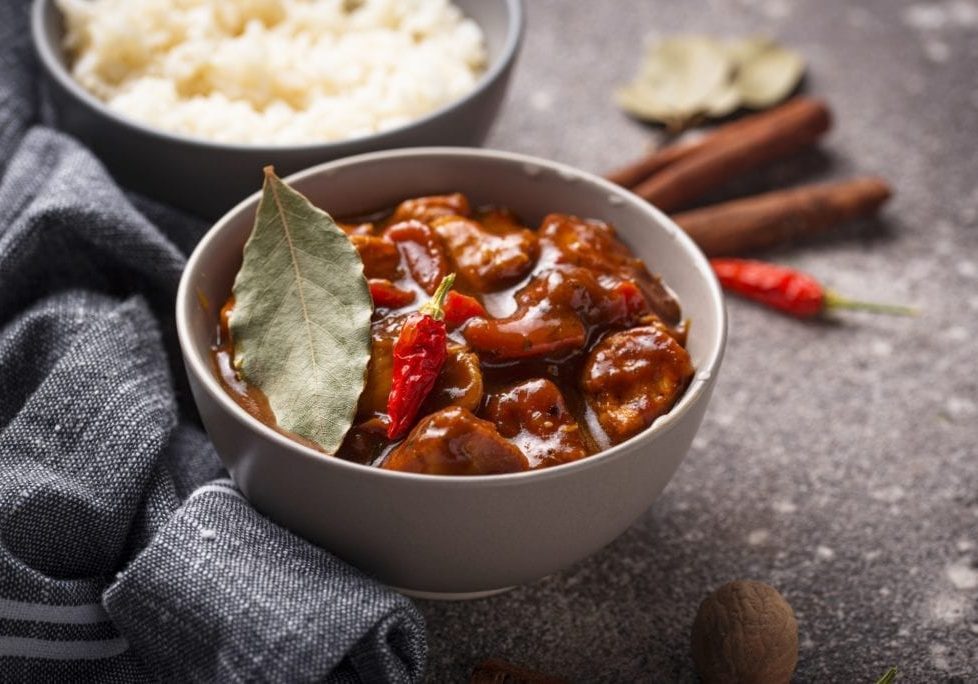 Phall Curry – however you spell phall it's hot!
Phaal or Phall is one of the hottest curries you will find on the menu. With the hottest chillies and often a large amount of chilli powder, this is not a curry for the feint hearted.
Phall is basically a thick, tomato based curry made with Habanero or Scotch Bonnet peppers  (sometimes 10 to 12 of them).  It originated in Indian Restaurants in the UK (Birmingham) so it's not the most "authentic" dish and shouldn't be mixed up with Phaal from Bangalore which is char-grilled without sauce and eaten as finger-food.
Ideal with lamb, chicken or beef the phaal curry is always served hot.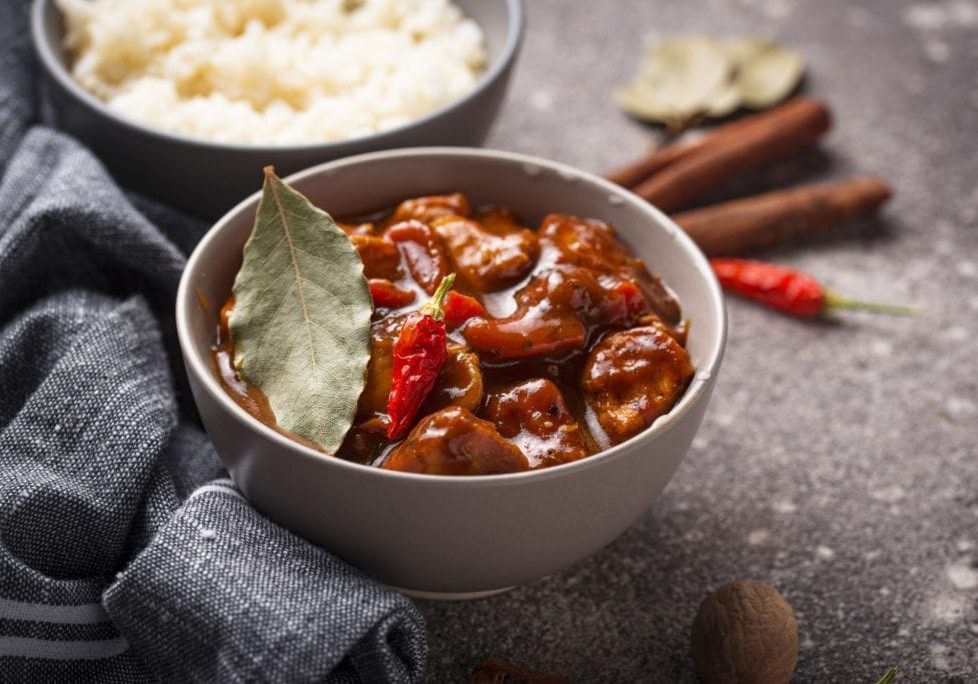 How to Make
Phaal (Phall, Phal) Curry
Heat the vegetable oil or ghee in a karahi or wok on a medium heat and then add the chilli peppers, cardamom pods and onions. Cook for 5 to 8 minutes until the onions are soft. Watch out for the chillies as when you are cooking with really hot chillies, scratching your eye is no fun.
Now add your meat pieces and stir in with the mixture. Cook for 5 minutes until the meat as started to cook through and browned slightly.
Next, add in the chopped garlic and ginger. Cook for another minute, stirring, until the garlic and ginger is no longer raw.
Now stir in the curry powder, hot paprika, turmeric and cumin. Then add the tomato puree and cook for 1 or 2 more minutes.
Now add your tinned tomatoes and some water if the mixture is looking too dry. Phal should have quite a lot of thick, gravy like sauce and not be too dry. If you cook with base curry sauce use 2 or 3 tablespoons of this in place of the water.
Simmer for 15 to 20 minutes until the sauce has reduced down. It is personal preference as to how thick or runny you like your curry. I like my phaal more like gravy than custard but cook it the way you like it.
Serve with boiled basmati rice, chappatis and perhaps a glass of lassi just in case it's too hot to handle. You can drink a beer but a milk based drink will be better at cooling the flames in your mouth.
Phall Curry Cooking Options
Pro Cooking Tip: Adjust the type and number of chilli peppers to vary the heat of the dish. Mixing the type and variety of your chillies will also vary the flavour.
Ingredients for
Phaal (Phall, Phal) Curry
2 x chicken breasts cubed (or you use diced lamb)
1 x tablespoon vegetable oil or ghee
4 or 5 x red hot chilli peppers, mixed type, finely chopped
1 x medium onion, sliced
2 x cloves garlic, finely chopped
1 x tablespoon ginger, finely chopped
1 x tablespoon curry powder (I use 2 tablespoons in mine!)
1 x teaspoon hot paprika
4 x cardamom pods
1 x teaspoon turmeric
1 x teaspoon cumin
2 x tablespoons tomato puree
1 x can diced tomatoes (or use equivalent fresh)
2 x tablespoons of base curry sauce or water
Salt and pepper to taste
Garnish with chopped coriander and chilli flakes
Links to other recipes and useful information about this recipe:
Here's the Phall Wikipedia page if you're interested in more of the background of the Phaal curry dish