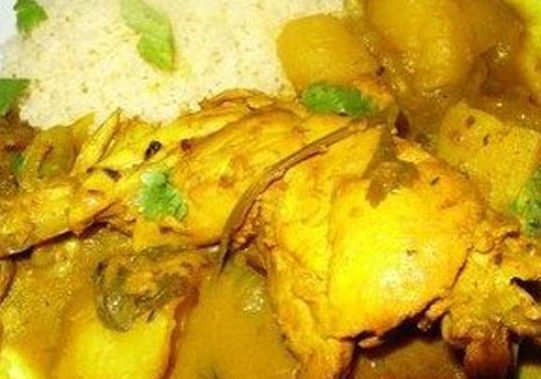 Colombo is a Creole curry from the French West Indies – Martinique and Guadeloupe, and is equivalent to Indian Curry. It originates from Sri Lanka (whose Capital is Colombo) and was brought to the French-Caribbean by Indian immigrants who came during the 19th and 20th century to work on the sugar plantations.
They brought curry powder along with them. Colombo is a thick curry which is seasoned with Poudre de Colombo (Colombo Powder) and is like a stew made with chicken, goat, lamb or pork.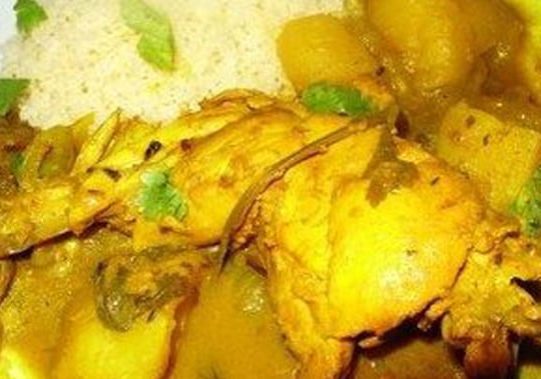 How to Make
Chicken Colombo
Chicken Colombo is very popular in French Caribbean cuisine, here is the recipe:
Preparation Time: 15-20 minutes
Chicken Colombo
Cooking Time: 60 minutes
Method:
Heat oil and butter in a saucepan
Stir in the chicken and colombo powder
Cook over medium heat for 15 minutes until brown.
Add the chicken broth, thyme, pepper, chives, parsley, onions, 1/2 can of coconut milk, garlic, lime juice, salt and pepper.
Heat it for 45 minutes and later turn off the heat.
Stir in the remaining bananas, coconut milk and pistachios
Enjoy !
Ingredients for
Chicken Colombo
1kg Chicken
4 x tablespoons Colombo Powder
2 x tablespoons Chives
2 x cups Onions
2 x cups Chicken Broth
1 tsp Scotch Bonnet Pepper
1 clove Garlic
3 x tablespoons Parsley
1 x can Coconut Milk
2 x tablespoons Lime Juice
2 x tablespoons Fresh Thyme
1 x tablespoon Butter
1 x cup Banana
1/2 x cup Pistachios
1 x tablespoons Pepper
1 x tablespoons Salt
2 x tablespoons Sunflower oil
Links to other recipes and useful information about this recipe: