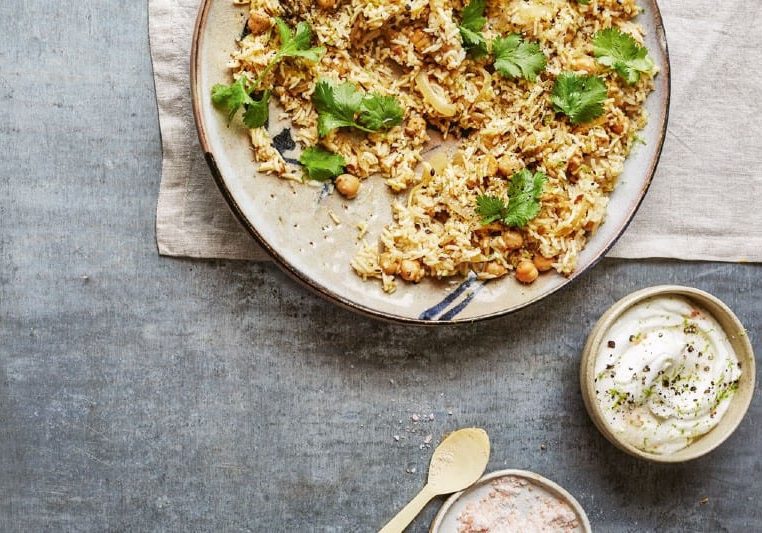 Fancy a risotto style dish with an Indian twist? Then this recipe from guest chef Anjula Devi should be just what you are looking for.
Ideal for vegetarians and with one or two ingredient changes you could also make a vegan version.
This makes a great dish to serve as part of a party sharing platter or at a barbecue and is ideal to eat with raitas and chutnies of your choice.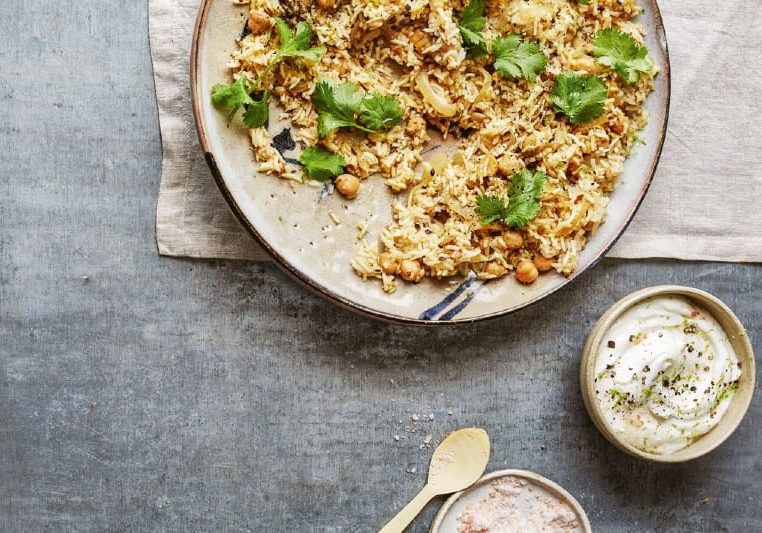 How to Make
Chickpea, Coconut and Mango Rice
Preparation time 20 minutes, cooking time 45 minutes
This is a wet rice dish, a little like a risotto.
Wash the rice in a pan until the water runs clear, then leave the rice to soak in water for 30 minutes.
Heat the coconut oil in a large pan on a low heat, then add the key spices and warming spices, and fry until they begin to splutter. This should take 1 minute.
Add the onions, tomato puree, garlic and ginger and fry for 5 minutes.
Stir in the hot mango pickle and chickpeas, season with rock salt, and fry over a low-medium heat for 10 minutes.
Drain the rice in a colander, add to the sauté pan and fold and coat the rice with all the spices
Pour in the water, coconut milk and stir gently.
As soon as it comes to the boil, reduce the heat to a gentle simmer and cover tightly with a lid.
Simmer for 15-20 minutes or until all the excess liquid has been absorbed, and the rice is cooked.
Remove from the heat and stir in the fresh coriander.
Serve hot or at room temperature, with Greek yogurt on the side.
Ingredients for
Chickpea, Coconut and Mango Rice
400 g basmati rice
800 g canned chickpeas, drained
Key Spices
1 tsp cumin seeds
1 tsp crushed coriander seeds
1/2 tsp crushed black peppercorns
Warming Spices
3 cloves
6 green cardamoms, bashed
1 black cardamom, bashed
Wet Ingredients
1 tbs coconut oil
2 onions, finely sliced
1 tbs tomato purée
2 tsp pulped garlic
1 tsp pulped ginger
1-2 tsp hot mango pickle
600 ml water
400 ml coconut milk
Himalayan pink rock salt to taste
1 small bunch coriander, roughly chopped
Greek yogurt, to serve
Links to other recipes and useful information about this recipe:
You can find many more delicious vegetarian and vegan recipes from Anjula on her website by following this link: Anjula's recipes