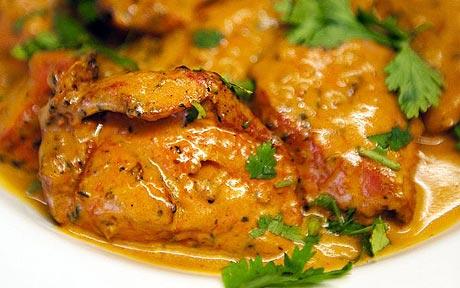 It can be tough sticking to a diet when eating out, here are some handy tips on what to pick from the menu (and what to avoid) so you can enjoy a delicious meal but be healthy at the same time.
Starters:
Chicken tikka is a great slimline choice, with less than 150 calories, if you opt for raita and skip the other sauces and dips. Choose this or two poppadoms with 1tbsp mango chutney.
Two small onion bhajis will set you back about 200 calories, so not too bad. And on the plus side, onions contain sulphur compounds – good for your immune system and arteries.
Avoid lamb seekh kebab – made with fatty minced lamb, it will rack you up between 250 and 400 calories. Plus you'll be scoffing about half of your total daily limit of artery-clogging saturated fat.
Main courses:
It's a big thumbs up to vegetable biryani, which even counts as one of your five a day. No need for extra rice, it has around 500 calories without the curry sauce which you should add sparingly to keep the damage to a minimum.
If you avoided lamb as a starter, here's your chance to indulge. Lamb rogan josh is the leanest lamb curry on the menu at about 600 calories – less if you spoon off the red oil on top. The tomatoes provide lycopene, which helps protect against various cancers.
Chicken korma is a big no-no if you're trying to eat healthy. Cream and coconut do the damage here – expect 800-900 calories per serving even before you add rice, plus your daily limit of saturated fat. Pasanda and tikka masala don't score too well either. Sorry.
Side dishes:
Choose chapattis instead of naan, as they usually contain no more than 160 calories each. Check, though, that it hasn't been brushed with oil, which will of course push up its calorific value. Eat a couple of chapattis and skip the rice completely.
Peshwari naan, stuffed with raisins and pistachios is a popular choice, but can supply a third of your day's calorie allowance. Try to avoid completely if possible, or share with a friend and eat no more than half – instead of rice.
Your amber Indian restaurant side dish might be bhindi bhajee. Okra soaks up a lot of oil, so a single portion might notch up 200 calories or more, but it is full of soluble fibre, which lowers cholesterol, and is a really rich source of stress-busting magnesium.
Puddings:
Do you really need that pudding? If so, your best bet is refreshing mango sorbet. Weighing in at less than 100 calories for two small scoops, it's also fat-free and gives you the tiniest smattering of skin-friendly immune-boosting carotenoids.
Pistachio kulfi comes in second best in the health stakes, containing 250 calories. But at least this rich ice cream pudding has a good calcium content. The potassium in the pistachios will also help offset all the salt in your Indian meal.
Gulab jamun – think of these as mini deep-fried doughnuts that have been soaked in sugar syrup, and you'll know where we're coming from when we say 'steer clear!' Expect a minimum of 300 calories and seven teaspoons of sugar in just two balls. And that's without the ice cream that accompanies them…