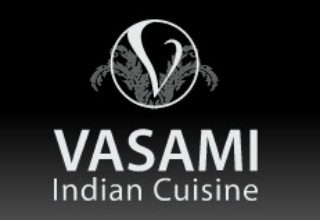 Vasami is based in the St Peter's Gate area of Stockport, a part of the town which has seen a lot of regeneration in recent years and sits on the hill above Stockport town centre.
We visited at the weekend and here is our 60 second Vasami Stockport Review:
Ambience 8/10 – Vasami has a modern interior, comfortable seating and Bollywood movies playing on a large TV screen at the end of the restaurant. It looked as though it had opened yesterday as everything looked immaculate but it has actually been open for a year. It's not the biggest place and seats around 40 to 50 diners but is not cramped.
Service 9/10 – we don't give 9's very often but Vasami's staff got it just right. Attentive when you wanted them to be, good advice to one of the diners who has a gluten allergy and a chat with the owner Sid after we had finished eating.
Food 9/10 – the picture tells it all really, with one diner going for Chicken Tikka Masala (yes I know not really very adventurous – Ed) which she described as one of the nicest meals (not just curries) she had ever had. Other dishes we tried were some bite sized assorted starters which were excellent and the Manchurian Chicken which was also delicious. One of the team also asked for a starter that wasn't on the menu (an Aloo Puree) and this was no problem for them.
Basically it was smiles all round from the 4 diners and no complaints on any of the dishes tried.
Overall – Vasami is Stockport's hidden gem and well worth a visit. Their chef knows what he is doing and can please both full on curry officianados as well as those who maybe don't make curry their first choice for a night out. Kate is still ranting on about the Chicken Tikka Massala so we've banned her from the office.