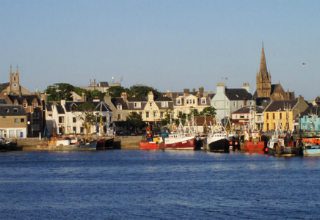 Proof positive that Curry is truly the nation's favourite is evident from how far and wide curry restaurants have spread.
There can't be too many more remote than the Stornoway Balti House in the Outer Hebrides but in our never ending task to track down the best curry houses in the country, our editor recently visited and here is his 60 second Stornoway Balti Review:
Ambience 5/10 – travel back in time 20 or 30 years and think of your local curry house and this is what the Stornoway Balti house is. There's nothing really wrong with it, it's just a room with tables and chairs in it and no real attempt to create any ambience. Having said that this is a sea faring part of the world and it was lashing it down so fancy furnishings would probably not last long.
Service 6/10 – they took our order, served our food and kept us supplied with drinks. All fine but nothing remarkable.
Food 4/10 – how curry used to be. Chicken and a few veg swimming in various types of reddish sauces. We were hungry and it tasted fine but there wasn't anything really to recommend any of the dishes. One of the diners opted for fish and chips and was served with deep fried peas which were a bit odd but very amusing.
Overall – welcoming staff but stuck in the 70's, if there were more competitors in the town they would have to raise their game.