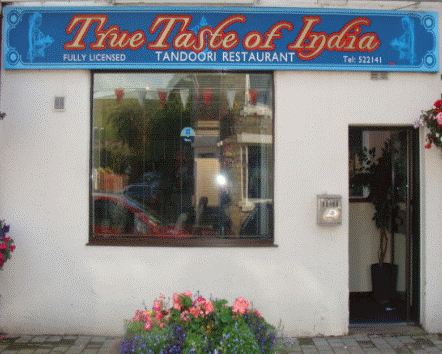 This unassuming restaurant is nestled away in the small village of Norden in North West Rochdale.  Part of the local community for almost 25 years, the charm of this place lies in its consistency; high quality food (I've been eating here all my life and am yet to have a bad meal), value for money and laid back service.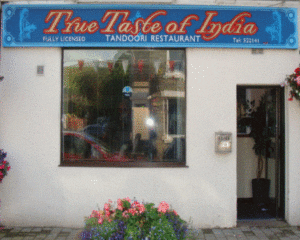 Here's our 60 second guide to the True Taste of India:
Ambience 7/10 – The 40 cover restaurant has booth seating down one side and matching cream and brown leather chairs on the other; a semi-modern affect for this traditional 'curry house'.  The size allows for intimacy and a comfortable atmosphere even with just a few diners in but it can quickly become crowded, added to by those coming in to collect takeaways.  This gives the place its charm and buzz but is also where the service levels can drop.
Service 7/10 – The service is traditionally laid back; attentive when you arrive and up to ordering and then minimal during your meal which most customers seem to appreciate.  These guys have been here a long time and know what they're doing.  The cliental is mainly regulars and the staff know the boundaries; some may call this complacency, others experience.
Food 8/10 – After our pleasant Tandoori Mix Kebab and Meat Samosa starters, mum and I leave dad to his Chicken Madras, which he describes as "full of flavour and hot enough to leave your lips tingling but without blowing your head off!"  Mum and I tuck into the Sheree-Nag and Tandoori Butter Chicken.  The Sheree-Nag is a medium hot spicy biryani cooked with a bit of everything; tandoori chicken, lamb & chicken tikka, king prawn, green chillies, topped with chunky onions, green peppers, minced meat and served with a Balti sauce.  In contrast the Tandoori Butter Chicken is mild and smooth; chicken off the bone, cooked in Indian butter with almond, coconut, onion and pepper in a Massala sauce. The fact that each ingredient can be tasted in both dishes shows they know how to cook good Indian food.
Dad picks up the bill (around the £65 mark including two rounds of drinks, I'm told); Mum and I pick up an obligatory red carnation each.  We leave happy, satisfied and full, having enjoyed a quality Indian meal by those who know what they're doing.