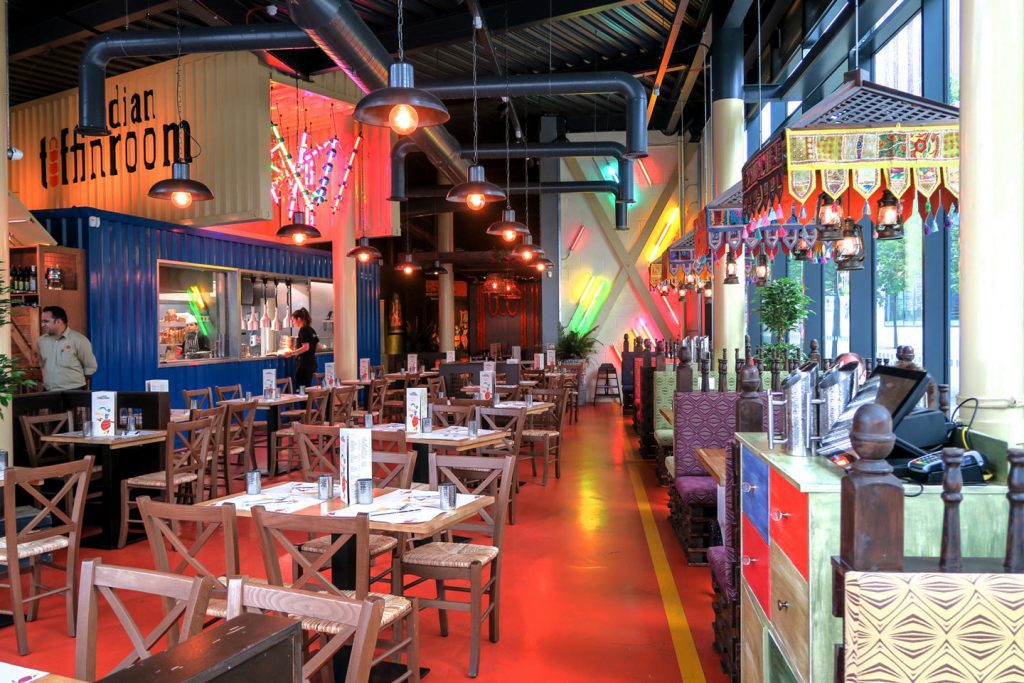 Fantastic – that's the review complete really. You must go there – I have no affiliation to them – I just live nearby and have been to the Cheadle one a couple of times so thought it was time to try the Manchester venue.
Its menu is very different to the traditional mile long, repetitive menus you see at too many restaurants. And it really does do street food, rather than pretending to, again like many other restaurants who jumped on that particular band-bicycle.
Many dishes will be unfamiliar to you, but just jump in and give them a try, they are excellent. The staff are also well aware that you might not be familiar with their style of menu, so are careful to check and explain where needed.
Here's my 60 second Tiffin Room Manchester Review..
Ambience 9/10: A modern design in keeping with their surroundings in the new Home complex in Manchester. Lots of modern touches and some nice bright artwork on the walls.
Service 10/10: Very attentive staff, helpful and willing to explain the menu if you need them to. Wine waiter kept our glasses topped up perfectly.
Food 10/10: We had the grazing platter of bhel puri, dahi puri and sev puri from the Street Food section, the dahi puri are light crispy and slightly egg shaped, filled with yoghurt and potato and eaten in one mouthful, delicious. Sev puri are similar and served with onions, tamarind and chutney, also great and the bhel is a light crispy mix of chutney, rice and potatoes. You can also have each dish individually.
We then moved on to idly vada which are very different and not somehting I've seen before. These are dumplings and doughnuts with different dips and were lovely, particularly the savoury doughnut.
For mains we had lamb kashmiri and dhaba style chicken. The lamb was good and quite spicy but the stand out dish was the dhaba chicken served with roti. The marinade they use to prepare this is sensational, the half chicken is served on the bone and with a couple of dipping sauces.
Overall 10/10: Modern, different and delicious, a new style of Indian meal well overdue. Highly Recommended.
To see their full menu visit their website here.
P.S. Photos have been taken for the ITR website as taking photos of my food is not nearly as much fun as eating it.