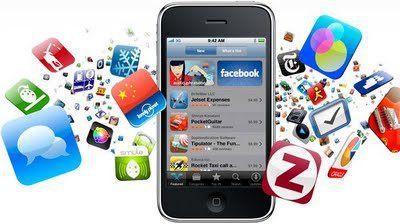 Today we investigate some of the various curry-related iPhone and smartphone apps to see how well they work.  We are only reviewing the free ones today because we know that you may want to "try before you buy".
5 different apps have been selected and rated according to 3 criteria; design, ease of use and content.
iCurry – map based curry restaurant finder
Design: This app is quite simple and has a similar appearance to many popular search engine and sat nav maps. This makes the app familiar and easy to use. The only negative for us is the opening page; it appears blank until a search has been made.
Ease of use: As you don't have too many tabs, it is easy to find what your way around and locate what you want.  It is easy to understand.
Content: This app says it allows  "curry lovers to find great restaurants anywhere".  It does allow you to find Asian restaurants in your area and gives full contact details and directions but no other photos or menu information.  The restaurants are also rated using Yelp data but there are no comment. This makes it useful if you love Asian food and you like to try new restaurants from time to time but it's a bit of a "lucky dip"
Sweet'N'Spicy – Asian recipes and forum
Design: This is an icon driven app which is full of information but complicated to use. There are sections such as "Favourites" and "My Kitchen" but we couldn't really decide why we needed both. If you want to know the smallest detail about the recipe you're cooking this is the app for you.
Ease of use: There are lots of recipes on this app, hence the number of different categories and subcategories.  Once a recipe is selected, you still have 6 different pages to work through; ingredients, instructions, review, nutrition, alternates and share.  We think this is too much for the user and you can get a bit lost with all the choices. The recipe instructions can also be difficult to read as some are just a big block of text.
Content: This app is packed full of information with thousands of recipes and discussions. Some great functions such as being able to select your favourites to create personal cookbook but it may be a bit too much for the average user.
Thai Cooking Menu

 – videos of Thai food recipes
Design: The design is a simple, clean layout with photos of the recipes on the first page. The photos are a decent size and are appealing and well taken.
Ease of use: Four clear categories enable the user to select the recipes – all recipes, appetizer, main course, dessert. This app is original because every recipe has a video attached with the written instructions. It is very easy to use.
Content: There are only 24 recipes available at the moment but they seem like a good selection and the quality of the layout and design is much better than the others we reviewed. This app also has the same content as "Thai Cooking Book" so no need to download them both.
Pachakam – Asian recipes
Design: We feel the design and layout of this app is quite poor. The first page displays the categories but you have to scroll quite a long way down to see them all and then once you select the category, you are presented with an alphabetical list of recipes like a phonebook. Some have a photo attached, most don't, making it appear half-finished and unprofessional.
Easy of use: The app is quite slow to load but other than that, once you have clicked on a category, recipes are easy to find (if you know the name) and each recipe is well presented.
Content: Users can find a large number of recipes that are said to have been "professionally tested" but have been supplied from sources all over the world so we can't vouch for the quality. A good app for the curry enthusiast who knows what they are trying to cook and can search for it by name.
Cuisines – Indian recipes
Design: This app although free to download is trying to sell you recipes for 69p a go. Although the layout is nice and the colours are well chosen, we were confused to see Mexican food appear when the app promises "Indian food".
Easy of use:  The first icon on the navigation footer is 'My recipes' the second "Favorites" and the third is 'Browser'. Apart from the fact we couldn't tell why we needed the first two (and not just one of them) we don't think this layout is well thought through. surely you browse first then save? Once you have access to a recipe, it is quite well explained and there are a few free ones.
Content: As there are so many free alternatives to this app we can't see why you would want to pay. It also looks like a "work in progress" rather than the finished article.
Editor's Note
We found these apps by searching the iPhone app store and they aren't necessarily the best ones out there, simply a representative sample of the ones that come near the top of their search function.