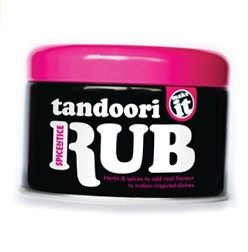 Spicentice is a family run business that produces spice kits in a variety of cuisines from Indian to Jamaican, herb & spice rubs in handy tins and real Indian fruit chutneys.
One of the Curry Culture team recently tested their Tandoori spice rub: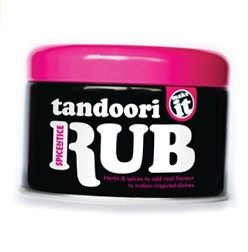 Self described as "smart-looking collectible tins with a handy little booklet for inspiration on how to Rub, Sprinkle, Paste, Crumb, Baste, Marinade and Glaze using the 100% pure herbs & spices in each blend" this product certainly gives you lots of cooking options.  But let's start with that 'smart-looking collectible tin'….
Packaging
It is indeed very attractive and well designed.  The vibrant bold colours draw you in and make you feel something special is waiting inside however my first reaction when opening the tin was disappointment.  Visually, the support act was definitely better than the main show; inside the tin is a basic, clear sachet of spice blend.  I'm not sure exactly what I was expecting but with such fancy and obviously well thought out external packaging, I was hoping for something equally as impressive inside. A simple branded sachet would have been enough but I have to be honest, my reaction at this point was slight disappointment and an uncertainty about the quality of what I was getting.
The accompanying inspiration booklet is exactly that.  Ordinarily with a spice blend I would have only thought to sprinkle it into a dish during the cooking process but I was suddenly faced with a multitude of options.  My faith that these guys knew what they were doing was suddenly restored!
Taste
I chose to 'baste' my chicken fillet before frying it in a wok with the rest of my stir-fry ingredients.  The instructions told me to "Mix with butter or oil to baste a plump chicken or your favourite cut of meat before roasting, grilling or BBQ'ing."  I did just this, and even added a squeeze of lemon juice for extra flavour.
I didn't want to add too much else to my dish, hoping that the Tandoori rub was going to provide all the flavour I needed.  This time I wasn't disappointed.  The blend is a pleasant mix of paprika, coriander, turmeric, chilli powder, cumin, cinnamon, cloves, black pepper and bay leaf powder and I was happy with the depth of flavour it gave to my stir-fry.  I did however feel a little guidance from the inspiration booklet as to knowing exactly how much to use might have been helpful.  Now I know it would be near impossible to give quantities for every dish the blend could possibly be used in and people have different tastes but when they "promise cooks of all abilities really can 'make it' at home with Spicetice," I felt a little more direction was needed.
Verdict
A decent product but at £3.99 a pop I question whether you are just paying for the packaging.  Aesthetically pleasing and very well branded.  A good balance of spices that complement one another and give enough flavour to a dish without the need for extra seasoning.  Improvements could be made to the inner packaging and a little more information with regards to quantity.
To find out more about Spicentice and to view their full product range, please visit www.spicentice.com