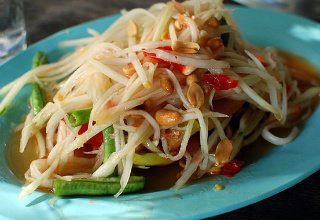 If you're in the mood for an Asian meal from the Far East – Thai offers a range of lighter options  as the food is generally fresher and less heavy than Chinese. Thai dishes offer an abundance of vegetables and where there is fat, in peanut sauces for instance, it is often of the healthy, unsaturated kind.
So if like many of us you are particularly figure conscious at this time of year but still want to dine out here is another of our healthy eating guides but this time based on what to eat in a Thai Restaurant.
Order low-fat starters such as fresh Thai summer rolls. Summer rolls are made with fresh, crispy ingredients such as cucumber, lettuce and herbs, and steamed in rice paper wrappers, rather than being deep fried. Thai restaurants serve "satay" meats, which are grilled without oils and are accompanied by sweet or spicy dipping sauces. You can also order salads, instead of fattening soups. The popular shredded papaya salad contains carrots and herbs. Thai green mango salad contains raw mangoes and shallots. Both salads usually use a fat-free lime vinaigrette dressing.
Skip main courses with fried meats, noodles, coconut milk and peanuts. To be on the healthier side you can order cashew chicken because the dish contains raw nuts, which have healthy fats such as omega-3 fatty acids. You can also order healthy main courses from the vegetarian section of the menu such as vegetables stir fried in garlic or steamed seafood dishes.
Avoid dessert! Unfortunately, there's no way to get around the calories in Thai cuisine's most famous desserts, sticky rice with mango, which contains more than 500 calories per serving, and fried ice cream. To curb your sweet tooth after dinner, order a glass of Thai iced tea, an anise-flavoured black tea sweetened with condensed milk, which contains around 200 calories per serving.
If you know of any healthy dishes you can recommend to Curry Culture's readers then please let us know.