Persian (or Iranian) food traditionally falls under the 'Middle Eastern' category but it takes its influences from a range of cooking styles including Mediterranean and Asian cuisines.
Like a lot of Asian inspired food, Persian meals are built around meat (usually lamb, chicken or fish), rice and fresh green herbs.  Whereas Indian and Asian food might then rely on spices to flavour their dishes, Persian cuisine uses fruit.  Plums, raisins, prunes and apricots feature heavily, as do nuts, saffron and cinnamon, all adding to a more sweet taste.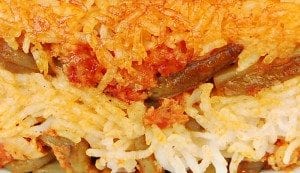 Popular Persian dishes
Tah-deeg, meaning 'bottom of the pot' is made from the sticky rice residue that is left at the bottom of the cooking pot. Potatoes, bread, meat, vegetables and herbs are added to make a complete meal, usually by being layered on top of the Tah-deeg.  Flavoured rice cakes are made in a similar way.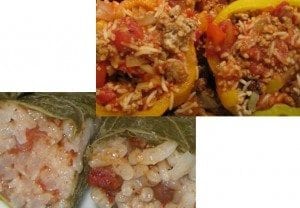 Dolma is a vegetable or fruit stuffed with rice or a rice/meat mixture.  Common choices are stuffed grape leaves filled with minced meat, rice and herbs, usually parsley.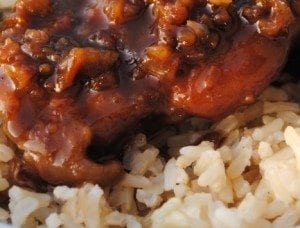 Khoresht is reminiscent of an Iranian curry and is made with chunks of lamb, sliced quince ( a pomme fruit similar to apples and pears) and yellow split-peas, served with rice.
Other popular meal combinations include duck, pomegranates and walnuts, lamb, prunes and cinnamon.
Persian Rice
By far, the extensive use and ways of cooking rice is a Persian cuisine speciality.  There are many varieties, most of which are similar to Basmati rice from Pakistan.
Polo – rice in soaked in salt water and boiled.  Chelo is made by parboiling, draining and then adding the rice back to the pot to be steamed.  This method makes the rice incredibly fluffy.
Kateh – a traditional North Iranian dish, is simply rice cooked in water, butter and salt until all the liquid has absorbed.  In some regions milk or jam is added to sweeten the mixture and is enjoyed as a breakfast dish.
Damy – similar to Kateh, but other ingredients are added at the beginning of the cooking process, lentils for example.
Persian Breads
Stone-baked flat breads originate from Persian cooking and feature in every meal in some form or another.  Sugar, syrups and milk are added to sweet varieties, others are made thicker, depending on the meal they are being served with.
A Persian dinner table
A plate of fresh herbs are always served with a meal, as are a variety of flat breads.  Walnuts, sliced cucumber, onions and tomatoes, yoghurt and lemon juice will also be on the table, along with gherkins and mixed pickles.  Fresh, ripe fruit will be presented at the end of a meal.
With many Asian elements found in Persian cooking Curry Culture are keen to review some Iranian food.  Do you run an Persian restaurant?  Are you a fan of Persian cuisine and can you suggest a good restaurant in your area?  Or perhaps you want to share your review with us.  Contact the editor with your ideas at editor@curryculture.com or leave a comment below.