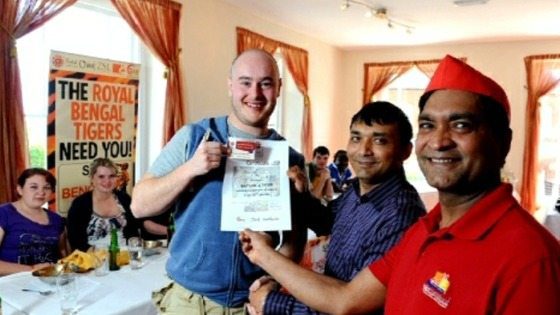 Newport student and former SU President, Rhys Bain is celebrating victory following a challenge from the University of Glamorgan in a world record, curry eating attempt.
In association with 'Save the Bengal Tiger Week', the British Curry Club challenged the teams from each University to eat as large a portion as possible within a record amount of time.
The British Curry Club organised the record breaking event at its headquarters, 'The Spice Merchant' restaurant in Cardiff Bay, to celebrate 'Save the Bengal Tiger Week' last month.
Mr Bain who was Newport Union President in 2010/11, consumed 500 grams of vindaloo in a staggering 2 minutes 35 seconds and his attempt will now be submitted to the Guinness Book of Records as a World record. Students from Newport also took 2nd and 3rd positions, with Verity Worthington completing the challenge in 3 minutes 32 seconds and Niamh Gilgunn in 3 minutes 57 seconds.
"We were very impressed with the speed of the winning contestant" said Mike Ahmed, CEO of the British Curry Club. "Vindaloo is one of our hottest curries and the students performed admirably and managed tiger portions in record time!"