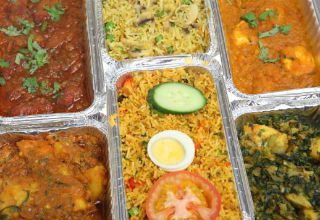 This week on Curry Culture, we want to know how you like to enjoy your curry.  Do you like to cook your own?  Get a takeaway?  Or do you love your local curry house?
With the internet we now have access to more recipes than we could cook for hundreds of lifetimes.  They are also free and you don't have to leave your house to access them.  So does this make cooking more popular?  While this may inspire some of us to cook the odd curry from scratch, in the last ten years or so we have seen the rise of products such as curry paste to aid the cooking of popular Indian dishes, not to mention curry ready meals.  And with the current economy, the supermarket is probably the best place for many of us to get our fill of curry.
While it might be the cheaper option, not all of us are chefs at heart and a takeaway every now and then is a great treat.  Let's face it, it's also the easier option.  The popularity of takeaway food is far from decreasing. With websites such as hungryhouse.co.uk making the whole process of getting a takeaway even easier, now we can order a curry without speaking to anybody.  This might be appealing to some, although the quality of takeaway curry is often questionable.
With a takeaway curry often comes a premium price and, in my experience at least, the price of a takeaway is often very similar to the price of an average Indian restaurant.  So it is easy to see why people may prefer to spend their hard-earned money on a restaurant where you (hopefully) get a bit of service with your curry.  And if you really want to spend your money, restaurants are where the best curries are to be had, with quality that most takeaways and home cooking simply cannot live up to.
So, do you have a favourite; make your own, takeaway or Indian restautant?  Or do you think there is a time and a place for all of these?  As ever, let us know via Facebook and Twitter.