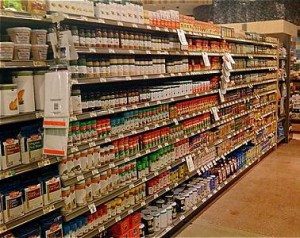 There's lots of exciting news for the curry industry about the growing involvement of supermarkets. Many have started working with curry producers in recent months and we are looking forward to seeing how these relationships develop and what they will mean for the industry as a whole.
Firstly, Asda have teamed up with Chak 89, a restaurant who we met at the English Curry Awards where they scooped the gong for Caterer of the Year. They will be  running curry counters in London stores and cooking restaurant-quality dishes at supermarket prices. Asda claims it will be the first of its kind, and we are curious to see how the counters fare – would you pick a supermarket-based counter for your takeaway or prefer to get it from a restaurant?
Morrisons have also been getting in on the curry act by stepping in at the last minute to sponsor the World Curry Festival after their original funding fell through. The Leeds-based festival is in its second year and will now be advertised nationally throughout the chain's 420 plus stores. This is obviously a great boost for the festival, which takes place over the last weekend of September and will feature a host of internationally acclaimed chefs, stalls and demonstrations. We're hoping to go along so we'll let you know how it goes!
Previously, Tameside restaurant Indian Ocean set up stall in the largest Tesco in the UK to cook samples of various dishes and distribute recipe cards explaining how customers could make authentic curries with supermarket-bought ingredients. This was to celebrate the end of Ramadan 2010 and was a big success – it seems like the combination of restaurant and supermarket is a winning one, and we are keeping our eyes and ears peeled for more of the same.