A tasty and medium spicy tamarind chicken curry recipe originating from Sri Lanka.
So we wanted to try a good tamarind chicken based recipe and a hunt online brought us to this Sri Lankan Tamarind Chicken recipe on the feed feed website from Anjana Devasahayam.
We didn't have all of the ingredients and there were only two of us so I modified the recipe and it ended up really well. Links to the original recipe are at the end of the article.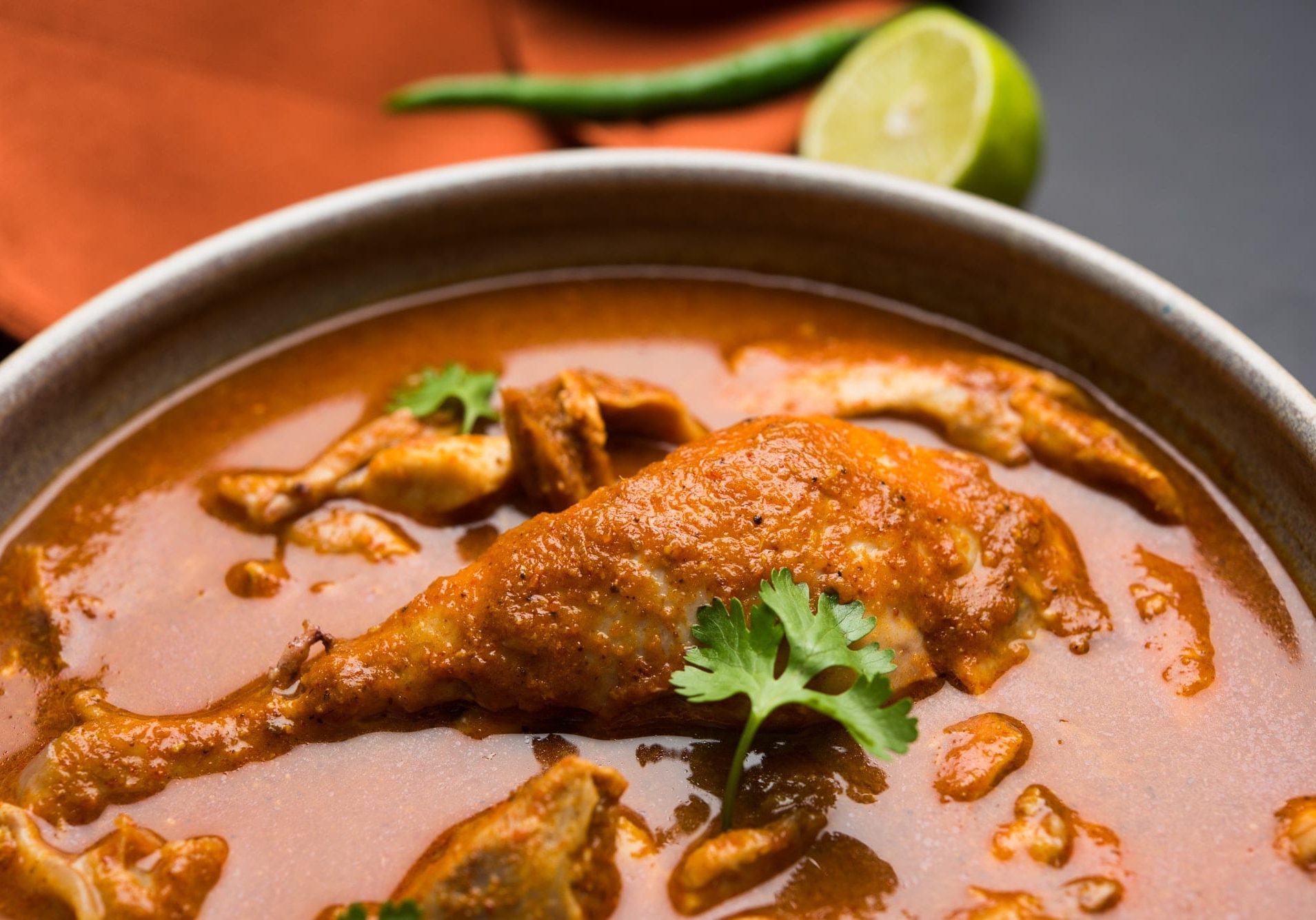 How to Make
Sri Lankan Chicken Curry
Serves 2
Mix the marinade ingredients and then coat the chicken pieces with the mixture. Set aside in the refrigerator for at least an hour.
Heat the oil in a large pan. Add the chopped onions, ginger, garlic and the curry leaves. Gently fry until the onions start to turn golden in color.
Lightly crush the whole spices using a mortar-pestle and add to the onions. Stir fry for a few seconds. Then add the red chili powder and curry powder and gently fry for another minute.
Now add the marinated chicken pieces and mix well for 5 minutes until they are well covered with the marinade and sealed. Add the chopped tomato, stir well and cover with a lid. Cook the chicken on medium-low heat for at least 15 minutes in its own juices. The chicken will let out enough water for the mixture not to run dry as long as the heat isn't too high.
Once chicken is almost done, add the coconut milk. Give it a gentle stir and continue cooking for 5 more minutes, or until the chicken is very tender and curry sauce is reduced to your liking.
Garnish with fresh coriander leaves.
We served it with pilau rice.
Ingredients for
Sri Lankan Chicken Curry
To marinate chicken
Chicken – 500g medium-sized bone-in pieces preferred
Turmeric powder – 1/4 teaspoon
Red chili powder – 1/2 teaspoon
Madras curry powder – 1/2 teaspoon
Black pepper – 1/2 teaspoon, freshly ground
Tamarind paste – 1 teaspoon
Salt – 1/2 teaspoon
For the curry
Oil – 1 1/2 tablespoons
Onion – 1, finely chopped
Ginger – 1 teaspoon ginger paste
Garlic – 3 cloves, chopped
Curry leaves – 8 dried
Whole spices – 1 teaspoon cinnamon powder, 3 cloves, 2 green cardamom pods
Red chili powder – 1/2 teaspoon
Medium  curry powder – 1 teaspoon
Tomato – 1, chopped
Coconut milk – 100 ml
Garnish with chopped coriander and ginger strips to serve (optional) 
Links to other recipes and useful information about this recipe:
This recipe was inspired by the original version on the feedfeed website.
Thanks to Anjana Devasahayam @happyandharried for her inspiration.