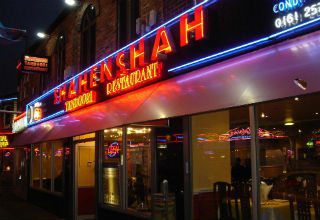 Two of us from the Curry Culture team decided to go to the Curry Mile and see where we ended up.
As soon as we stepped off the bus we were spotted by what can only be described as a 'curry salesman'. He promised the best food on the Curry Mile, free poppadoms and a twenty percent discount off our bill. Having not made a choice about where to go, we decided to follow him into 'Shahenshah Tandoori'……
Ambience 5/10 – The décor was okay, but there was a sense that there were too many tables and chairs in the restaurant. This gave the restaurant a cramped feel and was highlighted when we were served our food at the same time as the couple on the table next to us as though we were a party of four. There was some Bollywood music playing at a good volume for a chatty atmosphere, however this stopped on more than one occasion, leaving awkward quiet moments. We were seated by the window which is always great on the Curry Mile because you can see Rusholme really coming alive at night. A testament to the atmosphere; the best thing about it was outside of the restaurant.
Service 7/10 – The staff were clearly very nice people and every single one of them thanked us at least once as we were leaving the restaurant. However, the service we received was average. We had to order our drinks three times before they were brought to us and we were not made to feel important. As I said, the staff had a knack for treating us as though we were in the same party as the people on the table next to us.
Food 6/10 – Incredibly hit and miss. My lamb dhansak was one of the best I've ever had; a great combination of sweet and spicy but my partner's lamb rogan josh was essentially just a plate of meat, with very little sauce or flavour whatsoever. The garlic naan had a lovely flavour but the rice had an odd kind of 'rubbery' texture. Poppadoms were served as you would expect in most Indian restaurants with various sauces, and they were free.
We didn't get our twenty percent discount.
Overall – A restaurant that promised the Earth but delivered very little.