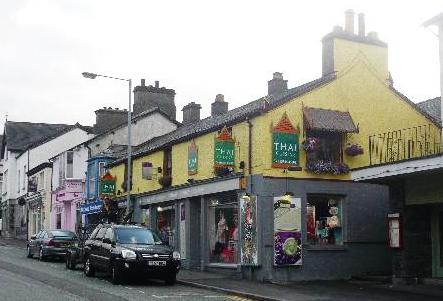 One of our Curry Culture team members and her husband decided to venture to the Lake District where they enjoyed a Thai meal at Jintana, on Lake Road in Bowness on Windermere over the weekend.
With over 75 restaurants in the village there is lots of choice of where to dine, however Jintana is the only Thai restaurant in Bowness.
It first opened its doors in 2004 and has since been successfully serving locals and the many tourists to the area 7 days a week.
Here's our 60 second guide to Jinatana:
Ambience 7/10 – Intimate and cosy with nice decor. The restaurant was full which made it lively, although this was to be expected as it was a Saturday evening.
Service 8/10 – Very polite, helpful and prompt.
Food 6.5/10 – We enjoyed:
POPIA BEHT  – Duck spring rolls with aromatic dipping sauce – very good. fresh and tasty.
PAD PRIEW WAN GUNG -Tiger Prawns with spring onion, pineapple and peppers in a Thai sweet and sour sauce. Prawns were quite chewy, but overall it was a good dish with lots of flavour.
THAI GREEN CURRY –We had the chicken version and although it was tasty it didn't feel freshly prepared to order and there was not much meat in this dish which was a little disappointing. The sauce was good, not to runny and not too creamy just the right consistency and spiciness for my taste buds.
STICKY RICE- The portion was very small and had a "boil in the bag" feel about it.
PRAWN PAD THAI– Really yummy!
Overall: It was nice and we enjoyed the service although felt it was very overpriced for the standard of food. This is possibly due to the fact that Bowness is very touristy and there are no other Thai Restaurants in the Village so they are able to charge what they like. Although the evening was nice overall I didn't feel it was great value for money so I won't be in a hurry to return any time soon.