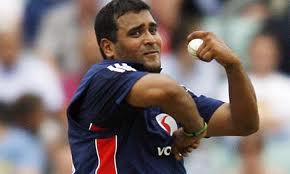 So we heard BBC cricket commentator Jonathan Agnew on the radio today saying Samit "liked a curry" and this and his previously poor fitness level were some of the reasons he has been on the fringes of the England team.
Today Samit has been called up for the squad for Sri Lanka and we want to wish him all the best as he competes with Ravi Bopara for a place in the Test team.
If you saw some of the catches Samit made recently then you will know that he can move when he needs to.
Chicken Tikka is apparently the England teams favourite dish when touring the sub-continent and we can't see this doing any harm to anyone's waistline if they eat sensibly. In fact we would say it's often the quantity of food people eat rather than the style, although obviously some dishes have a higher calorie count than others.
Let's hope the Sri Lankan test tour goes better than the recent series against Pakistan.