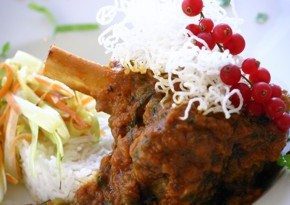 Sharon Byrne is the guest blogger of the day. She wrote a review of The Yeti's Retreat, based in Heaton Mersey (Cheshire).
Opened in early December, The Yeti's Retreat (cleverly named by Moor Magazine readers) is all set to relight the flame of culinary passion for Heaton Mersey folk. Run by family members Steve, KC, Sunita and Saraj, (all of whom have years of experience in other local Nepalese restaurants), this brand new restaurant is fresh and exciting and very welcome. Chef and food manager Steve welcomed us with a Gurkha beer, which was a lovely accompaniment to the variety of starters he'd prepared for us. First up was the cool and refreshing Chana Sandeko (spicy chickpea salad), presented in a pretty masala poppadom basket.
Then we sampled the 'momo', which is a kind of dim sum type dumpling, but light as a feather on the outside with a delicious and exotic buffalo filling, which was dense, highly flavoursome and deliciously meaty. For veggies there's a fragrant, vegetable option too. These steamed or fried vegetable and meat dumplings are hugely popular in Kathmandu, making up about 80% of the total lunch and snacks served there.
But our favourites of these delights were the 'Nimki. These are little, puffy fried crackers, surprisingly flavoured with lovage (a Mediterranean herb), and topped with moist and saucy chicken or a tasty concoction of sweet vegetables. The fiery dip (Hmur) that is served with these little treats is not for the faint-hearted, but give it a go: it's wonderful! Throughout, front of house manager KC talked us through every dish with charm and enthusiasm. Like Steve and chef Saroj, he's incredibly keen that diners have a great experience and is passionate about sharing his love of Nepalese cuisine. If we were unfamiliar with anything he was delighted to enlighten us. What a gentleman!
After a brief respite we were looking forward to our main course. I'm happy to report that pretty much everything is cooked fresh and to order, which gave us time to savour the next liquid lubrication recommended by Steve……. Banana bread beer!
It's not something we'd have chosen ourselves, but it was great fun and really did taste like bananas! The trick is of course that the sweet and 'banoffee-like' aromas work perfectly with the spicy Nepalese cuisine. Our lamb 'Masobhaat', an individual shank in a spicy sauce, served on a bed of rice, vermicelli noodles and coconut flavoured vegetables was a triumph: tender, sweet, spicy and creamy all at once. It was gorgeous – and deservedly popular already.
The overall style of cooking is based on the Newa (the indigenous people and creators of the historical civilization of the Kathmandu Valley) cuisine – they're considered the food connoisseurs in Nepal, and in The Yeti's Retreat it really shows.
Sharon writes for Moor magazine.