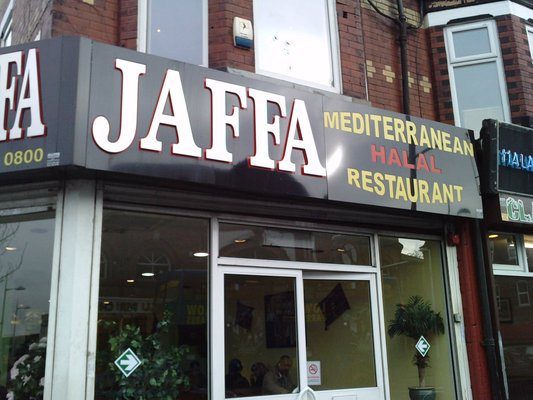 Jaffa is a kebab house located on the Curry Mile in Rusholme, Manchester. Here they serve what they describe as Halal Mediterranean food. You've probably never noticed the restaurant whilst driving or walking on to the Curry Mile because it is hidden amongst the dozens of other restaurants. Despite the fact that it doesn't look anything special from the outside, it has established itself  amongst students as one of the must-try kebab houses in Manchester. Four of us decided to give it a try last week.
Here's our 60 second guide to Jaffa
Ambience 6/10 – be prepared ….not to be amazed. To be fair, the decoration is not what they are focusing on. It is a regular kebab house with a minimalist design but it looks clean. The restaurant is spread across three floors, the first offers a pleasant area with plenty of seating – good for a chat. So if you only go for the "in" restaurants, Jaffa is not for you.
Service 7/10 – We didn't expect a lot of 1-2-1 attention in a kebab house so we were pleasantly surprised when despite being very busy, the person serving us took time to explain the menu. They even brought our food upstairs so we didn't have to wait downstairs.
Food 8.5/10 – Food is Jaffa's strong point. They serve good quality, tasty Middle Eastern food. We ordered two home-made falafel wraps, some garlic bread, a chicken tikka and a chicken shawarma. The garlic bread was delicious and we loved the falafel wraps and chicken dishes, which were accompanied by a yogurt sauce.
Overall – We were very happy with Jaffa and it is one of the best priced restaurants on the curry mile so if you're strapped for cash and need a pit-stop you can't really go wrong here.